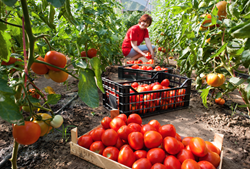 New Amenity at Georgia's Most Popular Lake Community Reynolds Plantation
Atlanta, Georgia (PRWEB) September 04, 2014
This year, one of the most popular lakefront Georgia communities earned their green thumb bragging rights. Retirees who enjoy getting their hands dirty can visit the community gardens at Reynolds Plantation, and learn why they continue to live in one of the top places to retire in the United States. Check out what these outgoing and 'out growing' friendly neighbors were up to in the past few months.
One of the newest Reynolds Plantation amenities was announced this past week, and the community support was astounding. The month of August marked the one year anniversary since the Landscape Committee proposed the health conscious idea to add a community garden to the long list of amenities at Reynolds Plantation. Residents of the private lakefront Georgia community with architecturally pleasing Lake Oconee homes united in April to begin the first eight garden beds of the growing seasons. Fifteen gardeners were led by Carolyn Taylor, chair of the Landscape Committee, and tested their planting skills at the gardens located next to the water tower on Plantation Lane.
Those folks had so much fun growing organic vegetables and flowers! They secured the fruits of their labor with protection like deer-proof fencing. They added irrigation hookups and a small tool shed for extra convenience. Their hard work and dedication paid off, because 25 more residents are growing their community gardens efforts. As more neighbors catch on to the convenience of picking fresh produce and flowers from their own well designed community garden within the Reynolds Plantation neighborhood, the benefits to the community will multiply, from personal enjoyment to warm friendships. Full- time resident Carolyn Taylor shares, "We all like to bring our favorite beverages, and dishes made from the crops in the garden, and just sit in the garden together. We chat about our beds, learning from each other and growing as gardeners."
After three months, the gardeners sat down for a rustic luncheon at farm-style table that was set with sunflower arrangements as the gardeners munched over picnic-style selections such as deviled eggs, pimento cheese biscuits, flatbreads, and stuffed strawberries to celebrate this activity as one of the official Reynolds Plantation amenities. It's not surprising this lakefront Georgia community decorated with stunning Lake Oconee homes are excited about gardening, because this farm-to-table mentality is making an even deeper societal impact across America.
Take a peek at the Reynolds Plantation homes.
With the hopes of expanding this amenity to the Great Waters and The Landing neighborhoods in Reynolds Plantation, this group of gardeners are motivating the community to support healthy initiatives that are taking the nation by storm. Baby Boomers are learning more about the importance of eating healthy. Owners of Lake Oconee homes now have the resources to eat organic and keep money in their pockets by participating in this community sponsored program. Healthy habits are easily incorporated into the already happy lifestyles thanks to the new community gardens at Reynolds Plantation.
Property owners are fawning over the new community gardens project, but there are many more Reynolds Plantation amenities that will knock the socks off of anyone interested in a social and active retirement. This lakefront Georgia community offers residents more opportunities to exercise their bodies at their private 38,000 sq. ft. Fitness Center, The Lake Club. Six resort-style swimming pools and state-of-the-art golfing facilities are ideal for anyone with a passion for the outdoors. For folks house-hunting for Lake Oconee homes, check out the other available amenities at Reynolds Plantation:
REYNOLDS PLANTATION AMENITIES
24 Hour Manned Gated Entrance
Six 18 Hole Championship Golf Courses
Reynolds Golf Academy and The Kingdom at Reynolds Plantation
Five Golf Clubhouses
Six Resort-style Swimming Pools
16 Tennis Courts with Stadium Seating
38,000 Square Foot Fitness Center - The Lake Club
Four Full Service Marinas with Boat Ramps
Ritz-Carlton Lodge
Lake Oconee Village - retail shopping complex
From gardening to golf, Reynolds Plantation is the place for families to rejuvenate.
To learn more about the award winning lakefront Georgia community, call Reynolds Plantation direct at 706.467.1133 to schedule a tour.
About Real Estate Scorecard:
Real Estate Scorecard writes unbiased real estate reviews providing in-depth information about popular gated communities in Florida, Georgia, North Carolina, South Carolina and Tennessee, all in an effort to help people discover where to retire in the Southeast.
Website: http://realestatescorecard.com