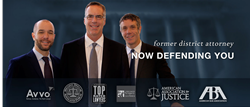 (PRWEB) September 03, 2014
Farar & Lewis LLP, the premier Los Angeles criminal defense law firm, is pleased to announce it's new complimentary consultation towards petit larceny crimes in Los Angeles. In Los Angeles, petty theft is punishable by a fine of up to $1,000. The term of imprisonment can last for up to six months. In some cases, a person can be fined and imprisoned if successfully convicted. The law firm of Farar & Lewis LLP can help fight these charges, and is offering a new complimentary consultation to assist.
Individuals accused of this charge are encouraged to take advantage of this new consultation by either calling, or visiting, http://www.fararcriminaldefense.com/los-angeles-petit-larceny-lawyers/
About Farar & Lewis LLP
The Los Angeles criminal defense law firm of Farar & Lewis LLP, has over 70 years of combined experience, litigating, and defending, on behalf of individuals all over California. Our firm, based out of Los Angeles, and with offices in San Diego, helps those accused of crimes, get the criminal defense they need in order to protect their future.