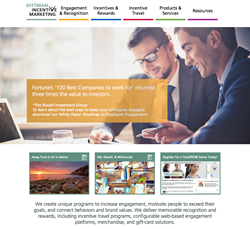 The new website allows us to share our depth of industry experience with HR and Sales professionals.
New Brunswick, NJ (PRWEB) September 04, 2014
Dittman Incentive Marketing's new website is designed to educate visitors on the importance of engaging, recognizing, and motivating employees and channel partners through customized software and a wide rage of recognition and reward solutions including world-class individual and group incentive travel.
The new website offers extensive knowledge about the principles and application of employee engagement and sales incentives and includes white papers, case studies, and videos; all part of the new Resources section. These resources will be frequently updated, providing fresh and state-of-the-industry content for visitors to the site. It also includes articles from Dittman's partnership with the leading industry associations, including the Incentive Marketing Association, Performance Improvement Council, Recognition Council, the Society of Incentive Travel Excellence, and the Enterprise Engagement Alliance.
Steve Cummins, Senior Director of Marketing and Technology at Dittman says, "The bright look and modern design makes for a welcoming platform to read and learn about the Employee Engagement industry. The new website allows us to share our depth of industry experience with HR and Sales professionals, and we hope it will become a valued resource for our clients."
The site also houses Dittman's blog, which continues to be updated weekly with articles written in-house about informative topics in the Employee Engagement arena and the world of Incentive Travel. Recent favorites have included "A Millennial's Perspective on Motivation at Work" and "A Taste of Italy."
The website also houses a complete guide to Incentive Travel, both individual and group, showcasing signature events and destinations through video and photo galleries, as well as providing insights into budgeting and program structure.
About Dittman Incentive Marketing
For more than 35 years, Dittman Incentive Marketing has been an award-winning, quality leader in providing incentives, recognition, and rewards programs to help companies realize immediate ROI in motivating sales people, employees, channel partners, customers, and consumers. Dittman's signature products and services include: TotalPRO® (Performance Recognition Online) — an incentive, recognition and rewards online software solution (SaaS) - and Deluxe Group Incentive Travel. For more information visit http://www.dittmanincentives.com.