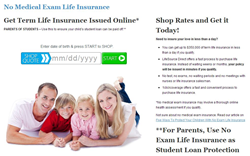 Your personal story about life insurance may help another family prevent a financial disaster.
Boise, Idaho (PRWEB) September 04, 2014
LifeSource Direct, a national online insurance brokerage, announces its support of Life Insurance Awareness Month for the month of September 2014. Life Insurance Awareness Month helps educate Americans on the many benefits of having life insurance. The LifeSource Direct website has continued to add educational and resources tools to help Americans of all wealth categories build simple financial plans for their families' futures. In an economic period of high student debt, credit card debt, marginal home loans to equity ratios, and increasing health expenses and an aging population, the need for Americans to protect themselves and their family from financial disaster in the event of a lost loved one has never been more urgent.
In an effort to educated Americans, LifeSource Direct wants to hear personal life stories about how life insurance has benefited a family or business. Stories can be posted by going to the LifeSource Direct blog page and selecting "September is Life Insurance Awareness Month." These stories will help educate readers on the benefits that insurance can provide.
LifeSource Direct, through Life Insurance Awareness Month, is asking people from all walks of life to take the time to assess what the impact would be on their families and businesses if something should happen to them. Would there be enough money to cover the monthly bills, the mortgage, the business operating expenses? These are extremely important questions that all families and businesses should ask.
A spokesperson for LifeSource Direct stated that, "Insurance is still an affordable means to add real value to a family's future." They further state that "We don't like to think of the death of a loved one, but we all know this tragedy. No medical exam life insurance is now easier to purchase online and more affordable, especially when insuring a student or as an estate planning tool for final expense."
No medical exam insurance fits a growing segment of the insurance market for individuals whose work schedules do not allow for a medical exam, or who are adverse to needles or providing blood samples. In addition, it is a quick and easy way to provide insurance for Key Man insurance for small business company executives.
About LifeSource Direct
LifeSource Direct ( http://lifesourcedirect.com ) was formed to create a dynamic, state of the art, direct sales life insurance company backed by an experienced and professional staff. Incorporating the latest cutting edge technology with one of the best consumer support staffs in the industry assures a simple and easy process for purchasing life insurance. LifeSource Direct works with top rated insurance carriers including Prudential, SBLI, Banner Life, MetLife, Lincoln, Nacolah, Transamerica, ING, Genworth Financial, and many more. LifeSource Direct works with thousands of people every year to help them find the right term life insurance at the right price. In addition LifeSource Direct offers many ancillary products such as complimentary RX discount cards.