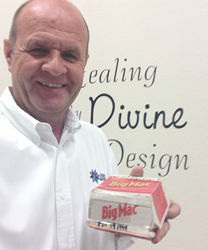 nature's key source to life, longevity and proper digestion all lies in enzymes
Carlsbad, CA (PRWEB) September 04, 2014
Working alongside the world's foremost nutritionist to 15 of the top PGA golfers, NBA favorites and Fortune 500 companies, Southern California's premier fitness and weight loss retreat, PFC Fitness Camp announces their partnership with Randall R. Grant of Divine Nature Group, LLC to complete the program's full wheel of wellness. PFC Fitness Camp continues to promote maximum health and wellbeing through their Omni La Costa Resort-based preventative fitness program—that is to prevent nutritional or weight related illness for their clients, rather than retroactively responding to them through healthcare treatments.
Hailed as the go-to nutritional consultant to athletes and celebrities around the globe, Randall R. Grant can pretty much uncover everything there is to know about diet and health by performing several nutritional tests and the slightest prick of the finger. He analyzes blood on a daily basis, which tells him if clients are digesting the correct amount of proteins, fats, carbs or dairy, whether cholesterol levels are correct, sugar intake too high, or unwanted bacteria is looming. Speaking of digestion, Grant's rediscovery of what he calls, nature's key source to life, longevity and proper digestion all lies in enzymes found in raw foods, and (thankfully!) his proprietary line of natural supplements, made only from whole foods and plant-based ingredients which provide all of the needed enzymes to digest, absorb and metabolize food.
The digestive expert joins PFC's team of the nation's top professionals in behavioral health, fitness and nutrition to offer PFC Fitness Camp clients the same A-list consulting given to his high profile athletes. As part of the all-inclusive program, clients will have the option to receive a live blood analysis from PFC's certified team during their stay along with recommended diet adjustments and supplement suggestions from Divine Nature's product line based on client's individual, digestive needs. "I am so pleased to work with Randy," states PFC Fitness Camp Managing Director, Zach Cutler. "His expertise in digestion, educated supplementation and enzymes has helped professional athletes from the NBA and PGA reach their athletic potential. I am excited that our clients will have the same opportunity to reach their health and fitness potential as well."
A bit about Enzymes: Enzymes are naturally present in all raw foods and we need them to break down and digest what we eat. Modern diets include foods that are heavily processed or cooked over 118 degrees, which destroy those enzymes, leaving the pancreas the task to produce the enzymes necessary to digest food. The dilemma with this process is, that over a lifespan, production of enzymes decreases from overuse and the body can no longer provide digestive aid, which results in all too common chronic ailments. For example, milk, cheese and ice cream require the enzyme lactase to digest. Once the pancreas is out, an individual is now lactose intolerant. Or take sugar for example. The enzyme amylase breaks down sugars, starches and carbohydrates. When the pancreas runs dry of that enzyme, an individual is now diabetic for the rest of their life. The body needs constant supplementation of enzymes to function, so eating raw foods with cooked foods help spare the pancreas of its limited supply. Perhaps this is why dogs never deal with IBS or bloating! When you give a dog a bone, they immediately bury it, letting the enzymes in the dirt break down and soften the treat so our furry friend can eat and fully digest their bone.
While eating raw fruits and veggies are a great way to provide the body enzymes, Grant's clean, chemical-free supplements along with PFC's live blood analysis will help demystify client's digestive woes, greatly improving their nutritional absorption, metabolism of food and aid in weight loss goals. Divine Nature products are now available online for purchase through PFC's online shop.
About PFC Fitness Camp: A world-class fitness and weight loss resort nestled in the coastal foothills of Carlsbad, California at Omni La Costa Resort and Spa, PFC Fitness Camp boasts a team of the nation's top experts in the health and wellness industry. Dedicated to providing an unprecedented experience, PFC Fitness Camp offers a comprehensive approach to Behavioral Science, Nutrition and Fitness, for a full wheel of wellness that has resulted in thousands of sustainable weight loss and life-transformations for individuals around the world.
About Randall R. Grant: The world's foremost nutritionist to Fortune 500 Corporations, top business executives, professional athletes and athletic organizations, Randall R. Grant is the owner, founder, and formulator and CEO Divine Nature Group, LLC, the progressive health and fitness company that promotes preventative health, nutrition and exercise programs to health professionals and professional athletes. Through state-of-the-art supplementation and support Randall R. Grant travels the globe training health professionals on nutritional microscopy and nutritional supplementation. He is a frequent keynote speaker and seminar presenter to trade expos, medical conventions and professional athletic organizations and facilitator of holistic health seminars worldwide.
For more information please visit us at http://www.premierfitnesscamp.com
Media Inquiries, please contact:
Joni Parmer / 858.344.3777 / joni(at)premierfitnesscamp(dot)com