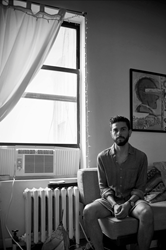 (PRWEB) September 05, 2014
Equipment in hand, Adrian Barry walked into a fifth-floor apartment in the Lower East Side. His eyes combed the dim room for a source of light. He paced around in a sort of purposeful amble, then stopped a dozen feet away from a couch adjacent to the tiny living room's only window. A gentle light draped over the sofa's edge –– there, he decided, his subject would sit.
"It might seem dark," he said. '"But there's a painterly quality to it."
Barry got his first camera at the age of 14; a Polaroid Instamatic with which he took black and white pictures of just about anything: his friends, his LP records, life in the industrial outskirts of Glasgow, Scotland, where he grew up during the 70s.
The son of a typist and a Chrysler factory worker, Barry led a quiet adolescence in a time of great social unrest. There were two types of youth during those times, Barry said, those content with the prospect of steady work and the promise of comfortable retirement, and those excited by a world that seemed boundless –– young adults with little to their name and little to lose. Barry was of the latter kind.
His fondness for photography was rivaled only by his delight for music. He learned to play the bass just like he learned to take pictures: casually, unencumbered by technique or technicalities.
"We were slap-bang in the middle of the punk movement," Barry told me over coffee just before his photo shoot in the Manhattan apartment. He spoke with a jovial Scottish accent only slightly diluted by years of being an expat. "There were no boundaries."
Photography was a solo sport, Barry said. Music was something he could share with others. So he formed a band and began playing in the same spontaneous and unselfconscious way he started taking pictures.
"We just bought guitars," he said. "How difficult could it be?"
Barry wanted to be a rock-and-roll star; if that wasn't possible, he would become a photographer. It wasn't until after graduating high school that Barry was made aware of the apparent gulf between his aspirations and reality.
It was common practice in Scotland for teenagers to meet with a professional who would assess their aptitudes. "You would meet with a careers officer," Barry explained. An ostensibly harmless practice that ended up crushing him.
The counselor dismissed Barry's desire to be a musician and said that given his lack of proper training, his chances of becoming a photographer were slim to none. He suggested Barry go to trade school.
"Within the space of half an hour all my career and my legitimate channels of society were completely smashed to smithereens," Barry said. "He told me it was a closed door and I believed him."
Barry put photography on the back burner and worked odd jobs. However, he stuck to playing the bass; going from band to band until he joined The High Fidelity in the late 90s. A band that garnered a decent following. A band that toured and sold records. "A proper band," Barry said. Despite the counselor's predictions, Barry had become a rock 'n' roll star. Photography no longer seemed out of reach. So, in 2003, over two decades after his meeting at the careers office, Barry left music and went back to school to become a photographer.
His upcoming project will be a series of portraits taken at the homes of everyday people in New York –– the visual representation, he said, of a Beach Boys' song that goes something like this:
There's a world where I can go and tell my secrets to
In my room, in my room…
Do my dreaming and my scheming
Lie awake and pray
Do my crying and my sighing
Laugh at yesterday
Though he's been a professional photographer for almost a decade, refining his technique by shooting everything from food to celebrities, there's much of the young boy keen on winging it left in him, especially when it comes to art. "I like shooting at apartments without scouting them out first," he said. "You work with what you've got."
Barry secured the Nikon D700 on his tripod, took his glasses off, looked into the lens and began to shoot. Once he started snapping pictures he didn't stop. There was barely a breath between each shutter click. Glasses on. Glasses off. Change lens. Adjust tripod. All so fluid and fast it barely gave his subject time to adjust in his seat.
"I don't want them to relax," Barry told me, clicking away. "I just want a little bit of fear in people's eyes. That's where the tension is."
The whole session lasted about 20 minutes. "One last little burst," Barry said. Then it was over.
Contacts
Rebeca Ibarra- rebeibarra(at)gmail(dot)com
Adrian Barry- info(at)adrianbarry(dot)com