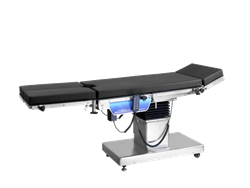 Louisville, KY (PRWEB) September 04, 2014
DRE Equipment Specialist Jasen Hargrove will be in Singapore Sept. 9-11, 2014, for Medical Fair Asia 2014.
Hargrove will showcase DRE's featured products in booth #4N30, and work with health care professionals from all of Southeast Asia to find cost effective solutions to their capital equipment needs.
"I'm looking forward to meeting with health care providers and distributors from throughout Southeast Asia," Hargrove said. "This show draws physicians from all parts of the region, so it offers the best networking opportunities."
He will be showcasing the DRE Torino EXL operating table, and two patient monitors from the Waveline family of patient monitors: The DRE Waveline EZ and the DRE Waveline Touch.

The DRE Torino EXL automatic operating table is an excellent choice for use in a variety of operations. A remote control operates the quiet hydraulic lift system, adjustable head, back, and seat plates, and the built-in kidney bridge. The Torino EXL also features long horizontal sliding, C-arm and x-ray access.
The DRE Waveline Touch is a good fit for facilities that perform light surgeries requiring a basic vital signs monitor. This lightweight unit can effortlessly be moved from room to room, and the 12.1-inch color touch screen is easy to use.
Weighing in at only six pounds, the DRE Waveline EZ is ideal for ambulance use and critical care. Caregivers can use the EZ's 8-inch intuitive touch screen to monitor heart rate, respiration, blood pressure, SpO2 levels, blood pressure and temperature in situations requiring mobile maneuvering.
A wide-ranging inventory makes DRE a one-stop-shop for medical practices of all sizes. The company's new and refurbished equipment is well-suited to emergency and critical care settings.
DRE's International Department has been making and maintaining business relationships with many repeat customers in Southeast Asia since 1984. On a daily basis, DRE works with overseas clients in more than 150 countries and attends key international trade shows all over the world. The company has years of experience with international shipping, documentation, and equipment support.
Join the Twitter conversation and tweet along during the show @DREmed for more special offers and industry updates.
About DRE
Since 1984, DRE has worked to be a single supplier for all major operating room equipment and surgical equipment. Inc. magazine named DRE, Inc., a premier surgical and medical equipment supplier, to its annual Inc. 5000 list of the nation's fastest-growing private companies for three consecutive years.