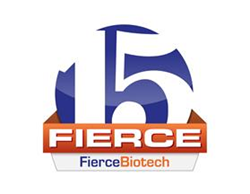 Washington, DC (PRWEB) September 04, 2014
The "Fierce 15," FierceBiotech's annual list of the industry's most promising private biotechs, will be announced at BioPharm America in Boston on September 22.
Every year for the past 11 years FierceBiotech has picked 15 up-and-coming private biotechs which have demonstrated some real promise for future success. These companies have the best teams, the best investors and some of the most innovative ideas in drug development.
Since its inception in 2003, Fierce 15 listed companies have had a major impact on global industry and economic development. Past lists have included BioVex (2009), Calistoga (2009), Avila Therapeutics (2010), Bluebird Bio (2012), Enanta (2012) and many other notable newcomers that were subsequently acquired by larger suitors or successfully commercialized proprietary drugs and treatments. A number of former winners have also gone public in the last 18 months. For a complete list of past Fierce 15 companies, click here.
FierceBiotech Editor-in-Chief John Carroll and Editor Damian Garde evaluated hundreds of companies before selecting this year's winners. Those chosen represent a diverse range of companies operating within a varied spectrum of business models.
"The Fierce 15 is a hunt to find the biggest ideas in biotech, the most daring characters in biopharma, and entrepreneurs doing things that just haven't been done before," said Carroll. "We're excited to dig into this year's nominations and uncover the industry's next class of future leaders."
Carroll will unveil the Fierce 15 at the opening general session of EBD Group's annual BioPharm America conference prior to the keynote address by Shire CEO Flemming Ornskov. Following an executive panel discussion, Fierce 15 leaders will continue the conversation at a private luncheon.
"The Fierce 15 is a respected industry benchmark and one of the most anticipated indicators of how and where the biotech business is growing," said Anna Chrisman, group managing director of EBD Group. "We're proud to partner with FierceBiotech to feature the announcement of this year's winners at the opening session of BioPharm America."
In addition to the live announcement, the Fierce 15 report will be published online and distributed via email to the more than 150,000 industry professionals who subscribe to FierceBiotech, the biotech industry's daily monitor. This year's report is sponsored by Johnson & Johnson Innovation.
About FierceBiotech
FierceBiotech is the biotech industry's daily monitor, an email newsletter and web resource providing the latest biotech news, articles, and resources related to clinical trials, drug discovery, FDA approval, FDA regulation, patent news, pharma news, biotech company news and more. More than 150,000 top biotech professionals rely on FierceBiotech for an insider briefing on the day's top stories. Signup is free at http://www.fiercebiotech.com/signup.
About FierceMarkets
FierceMarkets is a digital media publisher, reporting news and insight to three million business professionals in eight global industries that generate trillions of dollars in revenues every year. We also serve the advertising/marketing needs of the companies and organizations that want to influence and do business with our professional audience. Our portfolio features more than 100 digital publications and websites, plus a suite of editorial and content marketing products and services including webinars, e-books, whitepapers, directories and events. FierceMarkets is a division of Questex Media Group, LLC. For more information visit http://www.fiercemarkets.com.
About BioPharm America 2014
BioPharm America is where biotech industry partnerships get started. Meet face-to-face with biotech and pharma executives from around the world to identify and enter strategic relationships. Equipped with partneringONE®, BioPharm America is the only event in North America based on the same reputable formula as EBD Group's acclaimed European events BIO-Europe® and BIO-Europe Spring®.
http://www.ebdgroup.com/bpa/index.php