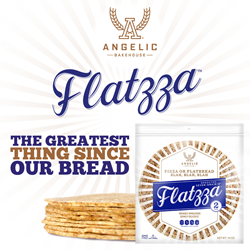 "Flatzza™ crusts are fun, easy and convenient, proving that healthy foods can be both nutritious and delicious. It is the perfect addition for the Whole Foods shopper."
Cudahy, Wis. (PRWEB) September 04, 2014
Angelic Bakehouse, a leading producer of sprouted whole grain breads and crusts, continues to expand distribution of Flatzza™, its sprouted whole grain pizza crust, at Whole Foods Market locations across the country.
Angelic Bakehouse® Flatzza™ crusts can now be found throughout the US in 5 Whole Foods Regions-in more than 125 stores. To find more information about Whole Foods Markets and other stores that carry Angelic Bakehouse products, visit http://www.angelicbakehouse.com/locations.
Since launching its innovative sprouted whole grain crusts in February, Angelic has rapidly expanded distribution of the product across the country. "Our continued growth within Whole Foods Markets, as well as the expanding availability of Flatzza™ at their locations, is an exciting sign of a great partnership," said Jenny Marino, President and CEO of Angelic Bakehouse. "Flatzza™ crusts are fun, easy and convenient, proving that healthy foods can be both nutritious and delicious. It is the perfect addition for the Whole Foods shopper."
About Angelic Bakehouse
Angelic Bakehouse is one of a handful of companies in the United States that uses freshly ground sprouted grains – whole grains in their purest form – to create natural baked goods that truly taste great. Gone are the days of cardboard texture or bitter whole wheat aftertaste that consumers often find with good-for-you fare. Pure ingredients. Pure products. Pure quality. That's what you can expect from Angelic Bakehouse. To find out more, or for Angelic Bakehouse retailers near you, visit http://www.AngelicBakehouse.com or follow along on Facebook.com/AngelicBakehouse and Twitter.com/AngelicBakehse.