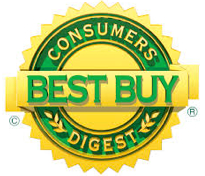 The Consumers Digest Best buy Designation is the result of a rigorous process. DogWatch Hidden Fence is pleased to have earned this prestigious designation consistently since 1998.
Natick, MA (PRWEB) September 25, 2014
DogWatch, Inc. is pleased to announce that the 2014 Consumers Digest review of Pet-Containment products awarded DogWatch® Hidden Fence the prestigious Best Buy (CDBB) designation. Founded in 1990, DogWatch, Inc. has achieved consistent growth since its inception and is now the second largest Dealer network for electronic pet fences and related products.
As described on the Consumers Digest website, the Consumers Digest Best Buy designation is the result of a rigorous process with several levels of product selection and evaluation. "A Consumers Digest Best Buy is a product that delivers exceptional value for a given amount of money. That doesn't mean that it's simply the least expensive product in its category. A Consumers Digest Best Buy is one that merits special attention from consumers based on performance, ease of use, features, quality of construction, warranty, efficiency, styling, and maintenance and service requirements."
Consumers Digest conducts product reviews in the Pet-Containment category every 2 to 3 years, and the DogWatch® Hidden Fence has consistently received the 'Best Buy' designation in each review since 1998. In 2014, DogWatch® Hidden Fence is the only Pet-Containment brand recognized in the Premium category. The Premium Selection designation denotes the DogWatch® Hidden Fence is a full-featured product that delivers excellent performance. Learn more about the review process and the DogWatch award at DogTails, the DogWatch blog.
DogWatch® Hidden Fences include unique features not found in other containment systems. The AutoMemory® feature, which automatically adjusts correction levels, the TattleTale® feature which lets you know if your pet challenges the boundary, two-year battery life and a lifetime warranty are examples of some of DogWatch's exclusive features. It is also noted that the DogWatch system is suitable for dogs of all sizes, even as small as 3 pounds. Read the full review at: 2014 DogWatch® Hidden Fence Review
DogWatch Dealer opportunities are currently available in select markets in New Jersey, Michigan, Arkansas, California and other areas in the US and Canada. For more information on working with DogWatch, check the Become a Dealer section of the DogWatch website, or contact Dennis Manitsas at 800-793-3436 x 618 or dennis.manitsas(at)dogwatch(dot)com.