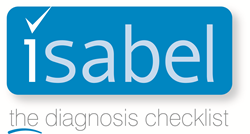 Isabel not only provides diagnosis support when needed but also assists with achieving Meaningful Use CDS goals
Ann Arbor, MI (PRWEB) September 04, 2014
Isabel Healthcare will exhibit at the Greenway Users Conference- Engage 2014, Booth 414, on September 4-7, 2014 in Dallas, Texas.
Isabel Healthcare provides a diagnosis decision support and knowledge management solution to help clinicians broaden their differential and get to the right diagnosis and treatment plan efficiently. Isabel assists in providing information to clinicians as part of their workflow and integrated with the EMR, empowering caregivers with information for efficient diagnosis and treatment decisions.
"We are very excited to share the latest version of Isabel with Greenway Health clients and physician users at ENGAGE14," said Don Bauman, CEO of Isabel Healthcare in North America. "Isabel not only provides diagnosis support when needed but also assists with achieving Meaningful Use CDS goals."
About Isabel Healthcare
Isabel Healthcare Inc. was founded in 2000 by Jason Maude and is named after Maude's daughter who almost died after a potentially fatal illness was not recognized. For over 10 years, Isabel Healthcare has provided the Isabel diagnosis decision support system to hospitals, physician practices and individual physicians and gained peer reviewed validation and unmatched experience. Today, Isabel is the only diagnosis checklist system fully integrated with EMR and is used by thousands of physicians, nurse practitioners, physician assistants and students worldwide, providing diagnostic support and education by broadening their differential diagnostic considerations. Connect with us at, 734-332-0612 or http://www.Isabelhealthcare.com or to learn more.
About Greenway Health
Greenway Health™ delivers the clinical, financial and administrative solutions healthcare providers need to effectively manage the delivery of quality care and improve health outcomes for patient populations. For over 30 years, Greenway has offered smarter solutions that help providers succeed in an evolving value-based healthcare system. Greenway's clinically driven revenue cycle management™ services and comprehensive suite of interoperable solutions improve financial performance and automate clinical and administrative workflows, so medical providers can spend time on patients instead of paperwork. For more information, visit http://www.greenwayhealth.com or call (866) 242-3805. Follow Greenway on Facebook, Twitter and LinkedIn.
Cited marks are trademarks or registered trademarks of Greenway Health, LLC or its affiliates. Other product or company names are the property of their respective owners.