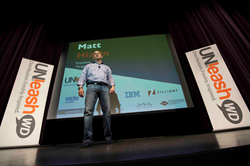 Andrew is the perfect innovator - the perfect leader to kick off our 3rd UnleashWD Innovation Summit. There is no one better to inspire new thinking for those focused on creating a sustainable and relevant business.
Chicago, IL (PRWEB) September 04, 2014
UnleashWD proudly announces that Andrew Berlin – Chairman and CEO of Chicago-based Berlin Packaging and Chairman and Owner of the South Bend Silver Hawks baseball team – will serve as the keynote speaker on October 29, the opening day of the Innovation Summit.
Berlin's presentation, titled "Unleash Your Juggernaut In Five Lessons", will share insights and inspiration from his career of building businesses and his belief that anything is possible.
With Berlin Packaging, Mr. Berlin created the leading Hybrid Packaging Supplier, which is a rethinking of the classic distributor model. Berlin Packaging's revenues now approach $1 billion and for decades have grown at a rate multiple times faster than the packaging industry as a whole.
Mr. Berlin applied his strategies from packaging to turn around a struggling professional sports franchise, the Class A affiliate of the Arizona Diamondbacks. The team is now one of the best run businesses in sports.
"Andrew Berlin is a phenomenal leader and innovator," said Dirk Beveridge, UnleashWD Founder. "His passion for winning with customers through a compelling business model, a unique culture, and an innovative approach to operational strategy are lessons we all can emulate and learn from."
Andrew Berlin's respected status as business leader has him frequently quoted in major publications including The Wall Street Journal, Chicago Tribune, Business Week, and leading trade journals. He has been inducted into the Chicago Area Entrepreneurship Hall of Fame. Mr. Berlin is also a Limited Partner of the Chicago White Sox.
About Berlin Packaging
Berlin Packaging is North America's premier supplier of plastic, glass, and metal containers and closures. The company supplies billions of items annually along with package design, financing, consulting, warehousing, and logistics services for customers across all industries. Berlin Packaging brings together the best of manufacturing, distribution, and value-added service providers. More information is available at http://www.BerlinPackaging.com.
About UnleashWD
Founded in 2012, UnleashWD is the first and only conference dedicated to bringing innovation to the wholesale distribution industry. The summit occurs once a year. Visit UnleashWD.com for updates on the summit and other resources such as webinars, eBooks, and other valuable information on how to innovate. More information is available at http://www.unleashwd.com
About the Founder
Dirk Beveridge noticed that innovation was bypassing distributors and founded UnleashWD in 2012 to set a bold new agenda for the over 300,000 distributors in North America.
His new book INNOVATE! How Successful Distributors Lead In Disruptive Times
will be published on September 15, 2014, by the NAW Institute for Distribution Excellence.
As one of the country's most outstanding speakers, Beveridge delivers a new voice, a new energy, and a new outlook.
He is available for press interviews, corporate speaking, and consulting. To contact Beveridge, call 847-381-7797 or email info(at)UnleashWD(dot)com.