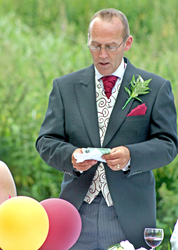 Providence, Rhode Island (PRWEB) September 04, 2014
Since 2001, more than 11,000 customers worldwide have called on PoemsToGo (PTG) for original poems and toasts for birthdays, weddings, anniversaries, bar mitzvahs, graduations, retirements, condolences and any of life's big occasions.
PTG is also renowned for providing customers with original speeches, too. And recently, they celebrated a major milestone: writing their 250th speech.
"It was a speech for a 50th wedding anniversary for parents," said Amy Miller, PTG's founder and President. "The golden couple's children were making a big anniversary bash and they wanted it perfect," said Miller – including a killer 50th wedding anniversary speech. On every count, PTG delivered.
The kids sent all the information they wished to include in PTG's exclusive and easy questionnaire. Then Miller assigned the speech to one of her professional writers. "It was a big hit," Miller said of the 5 minute speech. "They called me afterward and told me there was laughter, tears and emotion all around." Miller explained PTG's goal on any project the group undertakes: "We go for an altogether charmed reaction that's unforgettable for everybody in attendance."
Of course, PTG creates original speeches for all of life's biggest moments. As you might expect, speeches for a mother's or a father's (or a child's or a friend's) birthday are big items. So are speeches for a 50th birthday. Then again, all birthdays are covered equally by PTG. "We've done a number of 90th birthday speeches," said Miller, adding that "we're really looking forward to our first birthday speech for a hundred year-old. In fact," she added, "we'll do that first 100 year birthday speech at a special 50%-off rate!"
Wedding speeches are a big item at PTG, including speeches and vows for brides and grooms, speeches for bridal showers, bridesmaids and for the best man. Says Miller, "We'll make those speeches loving, heartfelt and as funny as you want."
Just to be sure they cover the entire spectrum of possibilities, PTG also offers a division that specializes in corporate and political speeches. "We did a presentation, an introductory speech, for a manager at his annual sales meeting," said Miller. Again, PTG worked from specific information as provided and delivered a finished product that made all the key points in intelligent, entertaining, compelling and utterly memorable fashion.
In all cases, Miller promises this to prospective customers: "Whatever your purpose, whatever you need, PoemsToGo has the experience and the capability to deliver a 3, 4, 5 minute or more speech – an absolute original, and a real gem – for you."
For more details, including speech samples, visit the PoemsToGo website.
Contact Amy Miller, President
PoemsToGo
http://www.Poemstogo.tv
amy (at) poemstogo (dot)tv
508-330-0028
On Twitter @poemsandspeech