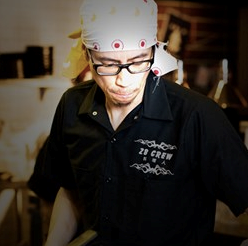 We're throwing a Ramen 'MASSIVE' Attack party to raise money for Children's Cancer Research Fund and to thank our friends and customers for three great years at Zen Box Izakaya.
(PRWEB) September 05, 2014
Zen Box Izakaya, The Minneapolis restaurant known for it's craft ramen and authentic Japanese food is throwing a bigger, better "Ramen 'Massive' Attack" party at the Mill City Museum September 28 to celebrate their third anniversary, and to raise money for local charity, the Children's Cancer Research Fund. 
World renown ramen chefs Jack "Naka" Nakamura of the Sun Noodle Ramen Lab, Mihoko Obunai of Southbound in Atlanta, Keizo Shimamoto, the creator of the original Ramen Burger and Ramen Co. NYC, and Zen Box Izakaya's own John Ng will prepare and serve ramen specialties for the massive event. 
Of course it wouldn't be a party without kegs from Surly Brewing Company & Asahi Beer USA, and Sake from Joto Sake LLC. 
As if that weren't reason enough to mark your calendar, celebrity ramen chefs will be joined by local restaurant friends from Travail Kitchen and Amusements, and Fro-Yo Soul Organic Yogurt Food Truck who will be serving street-style snacks and dessert. 
Mill City Museum doors will open at noon. Ramen 'Massive' Attack admission is free. All food and beverage ticket purchases ($2 - $10) will be CASH ONLY. To find out more about the event, visit Zen Box Izakaya's Facebook page at http://www.facebook.com/zenboxizakaya.
The day's events include free performances by Crankshaft & The Gear Grinders, Solid Gold, Mu – Daiko drummers, and Seven Dragon's Kempo Karate who will be cutting bamboo with samurai swords. 
Those who've paid Mill City Museum admission will also be able to attend Baking Lab demonstrations by Chefs Ann Kim of Pizzeria Lola and Tammy Wong of Rainbow Chinese Restaurant & Bar. 
Event details and updates will be posted on the Zen Box Izakaya Facebook event page, on Twitter and Instagram with hashtags #ramenmassiveattack and #slurpforacause.
Net proceeds from Ramen 'Massive' Attack food and beverage sales will go to the Children's Cancer Research Fund, a local Twin Cities charity. September is Childhood Cancer Awareness month – the perfect time to raise funds and awareness for the fight against pediatric cancer! 
Ramen 'Massive' Attack partners and sponsors include Sun Noodles, Ramen Co. NYC by Keizo Shimamoto, Travail Kitchen and Amusements, Pizzeria Lola, Asahi Beer, Joto Sake, Johnson Brothers, Artisan Beer Company, J. J. Taylor,. Tammy Wong at Rainbow Chinese Restaurant & Bar, Fro-Yo-Soul, Surly Brewing Co., Burger Maker, D'Amico & Sons, Mu Performing Arts, Seven Dragons Kempo Karate, Mill City Museum, and The Depot Minneapolis.
About Zen Box Izakaya: 
Minneapolis restaurant Zen Box Izakaya was started by husband and wife John Ng and Lina Goh in 2011. An Izakaya is a Japanese gastro pub that features authentic Japanese comfort food with pairings of sake, shochu, wine, and Japanese cocktails. 
Chef John Ng and the Zen Box Izakaya team are available for comments and cooking demonstrations. To schedule a media appearance or for more information on Ramen 'Massive' Attack, please call Lina Goh at 612-332-3936 or email [email protected]
Visit us at: http://zenboxizakaya.com | [facebook.com/zenboxizakaya | @zenboxizakaya | instagram.com/zenboxizakaya
SOURCE: Zen Box Izakaya