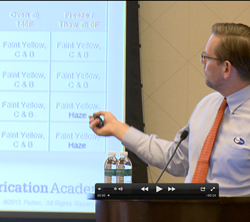 The Lubrication Academy course will immediately impact a plant's reliability and availability
Jersey City, NJ (PRWEB) September 05, 2014
Fluitec International will draw industry leaders from around the world to Atlantic City for its annual Lubrication Academy from Oct. 6-9.
The course provides the most advanced and up-to-date knowledge on rotating equipment lubrication to help plants maximize oil performance and increase equipment efficiency.
"Lubrication Academy is one way in which we give back to the industry by sharing research and critical information that we've gathered," Fluitec CEO Frank Magnotti said. "This knowledge transfer makes our customer base stronger by increasing the profitability of their operations."
Participants from 25 countries have attended the Lubrication Academy over the past five years in cities around the world.
"It is the single most concise and targeted class you can take with respect to lubrication and how to maintain its health. Attendees come from all different phases of the industry, from CEOs to plant and reliable managers to technicians. Anyone who wants to understand that latest in lubrication and do their job better will walk away able to do so," said Global Sales Inside Director Deanna Komuves.
"We pay special attention to the various modes that cause fluids to fail in the field and illustrate these examples with multiple case studies. Lubrication Academy students typically rate the case studies as the most valuable course component as it allows each student to play investigator and illustrates real life examples of the theories that are taught," said VP of Business Development Greg Livingstone.
Fluitic will also contribute to the community, donating ten percent of the proceeds to a local charity.
About Fluitec International
Fluitec, based in Jersey City, New Jersey is a privately-held company. It provides customers in over 55 countries on 5 continents leading edge technologies and knowledge to realize optimum reliability and sustainability of their lubricating assets.
In 2010, Fluitec received an award for the "Most Promising Innovation" from Cleantech in New York City. Fluitec has developed several technologies to decrease operation and maintenance costs of rotating equipment. One of their flagship condition monitoring products, the RULER™, is a patented technology to determine the remaining useful life of lubricants. They have also developed the industry's leading, patent-pending lubricant varnish mitigation technology called Electrophysical Separation Process™.