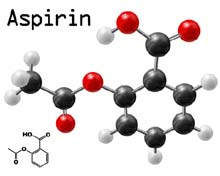 Aspirin had a small but significant effect on disease latency...
Raleigh, NC (PRWEB) September 05, 2014
Scientists at the University of Western Australia have found that non-steroidal anti-inflammatory drugs like aspirin and COX-2 inhibitor pain relievers like Celebrex do not appear to prevent mesothelioma, as they had hoped. Surviving Mesothelioma has just posted an article on the research. Click here to read it now.
Investigators in the University's School of Public Health and the National Centre for Asbestos Related Diseases say NSAIDS and COX-2 inhibitors did not keep mesothelioma from developing or improve survival in mice or people, although aspirin did appear to temporarily slow down disease development in mice.
"Aspirin had a small but significant effect on disease latency (the time between asbestos exposure and first evidence of disease; p<0.05) but disease progression was not affected by the continued presence of the drug," reports lead author Dr. Cleo Robinson.
The study, published in Lung Cancer, also analyzed the impact of NSAIDS and COX-2 inhibitors in asbestos-exposed people and found no impact on their rate of mesothelioma.
"This is disappointing news for those hoping for a simple way to prevent this deadly cancer," says Alex Strauss, Managing Editor of Surviving Mesothelioma. "Although inflammation plays a role in mesothelioma development, this study suggests that it will take more than prevention of inflammation to prevent the disease."
To better understand the new study and its implications, especially if you or a loved one is on NSAIDS and is at risk for mesothelioma, see NSAIDS Temporarily Stave Off Mesothelioma in Mice, now available on the Surviving Mesothelioma website.
Robinson, C et al, "Effect of NSAIDS and COX-2 Inhibitors on the Incidence and Severity of Asbestos-Induced Malignant Mesothelioma: Evidence from an Animal Model and a Human Cohort", August 18, 2014, Lung Cancer, Epub ahead of print, http://www.lungcancerjournal.info/article/S0169-5002(14)00347-X/abstract
For nearly ten years, Surviving Mesothelioma has brought readers the most important and ground-breaking news on the causes, diagnosis and treatment of mesothelioma. All Surviving Mesothelioma news is gathered and reported directly from the peer-reviewed medical literature. Written for patients and their loved ones, Surviving Mesothelioma news helps families make more informed decisions.