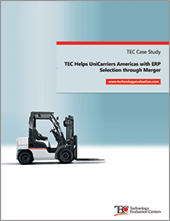 "TEC was extremely helpful in the selection phase for our ERP project. The evaluation tool was critical in helping us visualize the results from our shortlist vendors without bias." – Lori Jackson, Project Leader, Corporate Strategy
Montreal, Quebec (PRWEB) September 04, 2014
When Nissan Forklift Corporation (NFC) joined forces with TCM America to form UniCarriers Americas Corporation (UCA) in 2013, the forklift production, manufacturing, and logistics company faced key software challenges. With TEC's aid, the company selected an enterprise resource planning (ERP) software solution for engineer-to-order (ETO) manufacturing to replace its 14-year-old system.
While the company had considered implementing a new software solution for some time, UCA's first interactions with a few vendors quickly revealed that the selection process was going to be more complex than anticipated. To find the right solution, UCA would need expert advice.
TEC had been working alongside NFC on an initiative to evaluate and select a supply chain management solution. When UCA was formed, a new team was put in place, headed by project leader, Lori Jackson. Now with a fresh business plan, TEC and UCA changed the project scope to encompass a full-blown ERP software initiative.
UCA was experiencing multiple operational inefficiencies because of its legacy system. The new system would need to satisfy key business and software requirements such as customer relationship management, streamlined production control practices, improved inventory visibility, simulation of production changes, and visibility into sales quote activity.
According to Lori Jackson, "With TEC's help, we were able to pick up right where we left off [before the merger] and keep going. It was a very seamless jumpstart and no issue at all."
With so many changes—project scope, company merger, new team players—it might be expected that both parties (UCA and TEC) would struggle to get back on track with the project, but the project proceeded without any unnecessary delays.
Read the full case study on UniCarriers Americas Corporation engineer-to-order ERP evaluation and selection project with TEC.
For more information about TEC's software evaluation and selection methodology, contact Evaluation Services at +1 800-496-1303, ext. 404, or e-mail selectionservices(at)technologyevaluation(dot)com .
About Technology Evaluation Centers (TEC)
Technology Evaluation Centers (TEC) is a software advisory firm helping private and public sector organizations around the world make informed enterprise software decisions—saving time, money, and heartache. TEC's online Evaluation Centers, containing IT research and extensive software models that catalog vendors' support for thousands of enterprise software features and functions, are the leading resource for IT decision makers around the world. By combining the online evaluation centers and providing onsite personalized advisory services, TEC has developed its offerings and solidified its unique position operating in the cross-section of the software consulting, analyst, and research markets.
Since 1993, TEC has helped companies make better enterprise software decisions through its impartial approach, 360° industry perspective, decision support technology, and proven expertise.