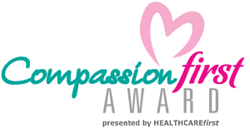 Ozark, MO (PRWEB) September 08, 2014
HEALTHCAREfirst, Inc., the leading provider of Home Health and Hospice technologies and services, today announced that nominations are currently being accepted for the fourth annual Compassionfirst Award.
The Compassionfirst Award is presented to the Home Health or Hospice caregiver who goes above and beyond what is required and regularly shows genuine kindness, dedication and compassion when caring for others. "We are excited to sponsor the Compassionfirst Award for the fourth consecutive year," says Bobby Robertson, President and CEO of HEALTHCAREfirst. "We are pleased to have the opportunity to continue to honor such wonderful caregivers for their hard work and dedication to Home Care."
HEALTHCAREfirst will select two award recipients: one Home Health caregiver and one Hospice caregiver. Each will receive a $500 cash prize, along with recognition at the National Association for Home Care and Hospice Annual Meeting and the National Hospice and Palliative Care Organization Clinical Team Conference. In addition, the recipients will be featured on HEALTHCAREfirst's website and corporate newsletter.
Those interested in submitting a nomination for the Compassionfirst Award should visit HEALTHCAREfirst's website at http://www.healthcarefirst.com. Nominations will be accepted through October 3, 2014.
About HEALTHCAREfirst
HEALTHCAREfirst provides leading-edge technologies that improve business and clinical functions to over 1,300 home health care and hospice agencies across the United States. HEALTHCAREfirst was one of the first home health care software vendors to recognize the industry's need for high quality software applications that are accessible over the internet. Based in Ozark, Mo and one of the fastest growing providers of its kind, the company provides clients with web-available agency management software, business analytics, electronic medical record software, revenue cycle management software, billing services and coding services that ensure technology is not a barrier to patient care, but a powerful tool. HEALTHCAREfirst allows caregivers to focus on patients instead of paperwork. For more information call 800.841.6095 or visit the company's website at http://www.healthcarefirst.com.