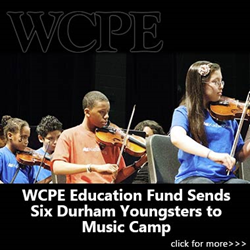 Wake Forest, North Carolina (PRWEB) September 04, 2014
The Classical Station, WCPE Radio, granted $2,000.00 to the Durham-based music program Kidznotes to help send six underprivileged children to a three-week summer music camp this past July. The camp hosted 100 students from kindergarten through grade six and exposed them to classical music with visitors including Branford Marsalis and North Carolina Symphony cellist Bonnie Thron. This grant was made possible through tax-deductible gifts made to the WCPE Education Fund, which aims to promote classical music education in the community.
"Kidznotes changes the life trajectory of underserved K-12 students through classical orchestral music," said Kim Demery, Director of Programming at Kidznotes. "Partnering with WCPE at our summer camp was exciting, fun, and an educational experience for Kidznotes students. They were given the opportunity to be a guest radio host for our Kidznotes Classics Show…Thank you WCPE for giving our students this wonderful opportunity to use their creative skills and learn about being a radio personality!" The Kidznotes Classics Show will air on WCPE, the Classical Station, at 6:00 p.m. Eastern Time on Monday, September 15, and re-aired on Sunday, September 21, at 4:00 p.m..
WCPE FM not only supported the summer camp financially but also taught the students how to be radio personalities. Dick Storck, program director at WCPE, visited the camp with recording equipment and taught the children about broadcasting. Photos from the summer camp can be seen online by visiting http://www.theclassicalstation.org.
About Kidznotes:
Our program is based on the El Sistema model of youth orchestras, which started in Venezuela and has now spread worldwide. They provide ten hours of music instruction per week free of charge to all participants, who are currently in grades kindergarten through 7th grade. Their goal is to be a catalyst for change that uses music to build a thriving network of children, families, and partners, where the passion for music unleashes the human potential to transform lives and communities. The foundation of their vision is the commitment to embrace and value diversity, excellence, and collaboration in our daily lives.
About WCPE:
WCPE broadcasts on a variety of FM frequencies in eastern North Carolina and is heard throughout eastern and central North Carolina and southern Virginia from its transmitting tower in Wake Forest, NC, and other repeater stations. A live feed is available on the Internet at http://www.theclassicalstation.org, through cable systems, through affiliate radio stations, and via satellite. WCPE is a non-commercial, listener-supported station that plays classical music exclusively. WCPE is owned and operated by the Educational Information Corporation, a North Carolina non-profit broadcasting organization. The Corporation was formed in 1973 and began operating WCPE in July of 1978. The Corporation holds a federal 501 (C) (3) Public Charity Exemption Certificate and the corresponding certificate from the State of North Carolina.