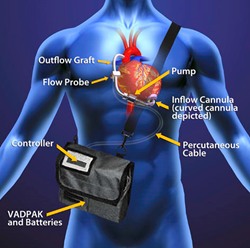 Houston, Texas (PRWEB) September 05, 2014
A life-saving medical device may soon be available in the United States for those suffering from heart failure. Houston-based ReliantHeart Inc. has been granted approval from the U.S. Food and Drug Administration Center for Devices and Radiological Health (FDA/CDRH) to conduct an Investigational Device Exemption (IDE) Clinical Trial on the HeartAssist5® Ventricular Assist Device System for patients awaiting a heart transplant.
The HeartAssist5® Ventricular Assist Device (VAD) is a small mechanical pump implanted to support left heart function when the left ventricle can no longer pump enough blood to sustain the body. The HeartAssist5® VAD provides benefits not currently available with existing VAD technology such as a proprietary true-flow measurement system and the HeartAssistRemote™ Monitoring System, which continuously transmits patient data to expert clinicians 24 hours per day via vadlink.com. These optimized device features may allow for faster and more precise diagnosis of potential issues.
The HeartAssist5® is approved in Europe for patients awaiting a heart transplant and as a destination therapy for patients who are not candidates for cardiac transplantation.
The clinical trial in the United States will be a prospective, 1:1 randomized, multicenter, clinical trial to evaluate the safety and efficacy of 96 patients implanted with the ReliantHeart HeartAssist5® Ventricular Assist Device (VAD) System compared to 96 patients implanted with either a Thoratec HeartMate II® LVAD or HeartWare HVAD® for left ventricular support while awaiting cardiac transplantation. The trial is expected to run through 2015.
About ReliantHeart Inc.
ReliantHeart Inc. is a leading innovator in mechanical circulatory support therapies for advanced stage heart failure. The company manufactures the HeartAssist5®, a next generation ventricular assist device (VAD) which has CE Mark approval for commercial sale in Europe. The HeartAssist5® is an implantable, electric pump designed for use in patients requiring ventricular support due to end stage heart failure and is the world's only remotely monitored VAD. ReliantHeart is privately held and headquartered in Houston, Texas. For more information please visit http://www.reliantheart.com