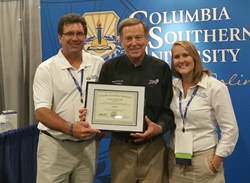 Orange Beach, AL (PRWEB) September 04, 2014
Columbia Southern University, an online university, recently awarded the September Learning Partner of the Month to the Voluntary Protection Programs Participants' Association, Inc.
The VPPPA conducted its national conference in late August and CSU representatives were there to present the group with the Partner of the Month award. Chairman Mike Maddox accepted on behalf of the association.
"We appreciate the support that Columbia Southern University has given us. This is great because these types of programs can help our employees. They can do this online and it makes a huge, huge difference in some of them getting a degree or getting an advanced degree," said Maddox.
CSU partners with companies and organizations to offer their employees/members and their dependents a 10 percent discount its affordable tuition and exclusive scholarship opportunities. In all, more than 2,000 learning partners currently enjoy a 10 percent tuition discount and exclusive scholarship opportunities.
VPPPA, a non-profit, member-based association, provides occupational safety, health and environmental leaders with networking and educational offerings, legislative information, industry advancements, preferred vendors and consultants dedicated to voluntary protection programs, professional development and volunteer opportunities.
CSU offers online associate, bachelor's and master's degree programs in various fields such as fire administration, occupational safety and health, criminal justice, human resource management and business administration. Visit http://www.ColumbiaSouthern.edu to learn more.