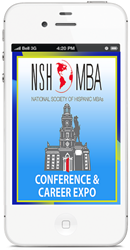 Columbia, MD (PRWEB) September 17, 2014
a2z, Inc is pleased to announce that the National Society of Hispanic MBAs (NSHMBA) will present the ChirpE mobile app solution, for the second year in a row, to attendees of the NSHMBA Annual Conference and Career Expo - the largest conference dedicated to career opportunities and professional development among the Hispanic community. This event will take place September 24-27, 2014 in Philadelphia, PA.
The a2z-powered ChirpE mobile event app offers easy access to the complete conference schedule, career expo announcements, and social media posts – all in real-time and synced from the event website – providing for an enhanced experience.
The interactive floor plan offer attendees many features to increase productivity and enhances their experience. An attendee can tag prospective employers that they want to meet at the career expo and add them to their personalized planner by using the sophisticated interactive floor plan.
In addition, attendees can take notes during their conference sessions or meetings and view conference speakers' profiles, the Conference Guide, and ConNektPro– all of which are accessible within the mobile app. The NSHMBA 2014 mobile app is available for iPhone/iPad and Android phones as well as all internet-enabled smart phones.
The NSHMBA Annual Conference and Career Expo attracts more than 250 corporations, non-profits, government agencies, and academic institutions seeking to hire top Hispanic talent. This four day event will convene 5,000 attendees to offer premier learning encounters through live recruitment, networking, and developmental opportunities. This event is tailored for Hispanic business students, professionals, executives and entrepreneurs who want to explore job opportunities with top employers, including Fortune 500 companies, and benefit from on-site career management services, including professional coaching. In addition, attendees will have opportunities to network and build connections within the Hispanic community and participate in professional development sessions to expand their knowledge, skills and abilities to elevate their careers.
For more information about the conference, please visit https://www.nshmba.org/
About a2z
a2z, Inc. provides powerful web-based event management tools that grow your show by increasing and accelerating booth sales, helping boost revenue, and enhancing engagement and value for everyone. Our clients benefit from increased connectivity with their audience via an improved website for their attendees and exhibitors and both web-based and native mobile app solutions. To fulfill our goal of developing quality solutions that help save money and meet your needs, a2z offers three platforms as one integrated solution: Expo & Conference Management, Networking & Lead Management, and ChirpE Mobile- which includes our web-based and native mobile apps for smart phone and tablet devices.
About NSHMBA
The National Society of Hispanic MBAs (NSHMBA) is the premier Hispanic business organization dedicated to building and advancing Hispanic leadership through graduate management education and professional development. Recognized as the nation's most prestigious Hispanic organization, NSHMBA has 39 chapters in the U.S. and Puerto Rico serving over 25,000 members since 1988.