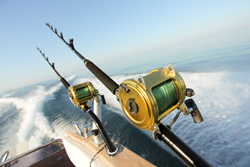 I have always had a love for business and knew that one day I was going to own a global brand.
Boca Raton, Florida (PRWEB) September 05, 2014
Salt Armour is coming up on its first anniversary and Tom DeSernia, the startup's CEO, has single-handedly grown the company using only social media. Using primarily Instagram and Facebook for marketing and promotional efforts, Salt Armour has quickly grown into a multimillion dollar company that is on track to shatter every fishing industry record. Tom is the company's founder and CEO and is making significant strides in the startup world.
Tom's passion for fishing paired with a unique entrepreneurial talent is what has brought Salt Armour the quick success it has seen in the last several months. His journey began, however, with a humble nature and an understanding of sport fishing. As sports fisherman from a young age, Tom realized that damage associated with decks and equipment was an inevitable part of each fishing trip. Determined to protect these items, he focused on perfecting the bottom of the fishing rod known as the Gimbal.
With a mix of creativity as well as trial and error, Tom patented the "Gimbal Cover," which soon became the spark for Salt Armour. Today, Salt Armour is known as a lifestyle fishing apparel brand that supplies anglers with everything that they need to make the most out of their fishing trips. Sporting the Salt Armour logo reveals the passion that lies within every angler.
With clientele that extends far beyond the United States, it is no surprise this multimillion dollar startup is triumphant amongst its competition. Tom sheds light on his vision stating, "I have always had a love for business and knew that one day I was going to own a global brand." That day has come. Salt Armour is a global success created with fishing passion and knack for social media marketing. Only time will tell where this business savvy CEO will take Salt Armour next.