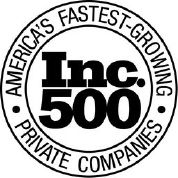 "With the introduction of 20 new products, we project 2015 revenue to exceed $10 million." - Steve Parisi, President
Upper Nyack, NY (PRWEB) September 04, 2014
ToiletTree Products has been ranked by Inc. Magazine as Number 439 on its list of the 500 fastest growing privately held companies in the US with 1080% growth since 2010. The 33rd Annual list represents a comprehensive look at thousands of companies that have had geometric growth within the last 3 years and distinguishes them as the leaders in multiple business sectors.
"We are grateful to all of our online and retail partners: Amazon, Sharper Image, Brookstone, Frontgate, CVS Pharmacy, Hammacher Schlemmer, Bed Bath & Beyond and Sky Mall who have contributed to the success of our brand," says ToiletTree Products Founder & President Steve Parisi. "Leading the way have been our series of Fogless Shower Mirrors with patented technology, superior customer ratings and really incredible sales growth. We have also seen tremendous response from our entire line of bathroom accessories, skin care products, travel accessories, personal grooming and oral care products with consistent growth in our own online sales, reorders from our retail and catalog partners…and our sales projections are very exciting."
While 2013 revenues of $3.4 million represent 1080% in growth in the last 3 years, projected sales in 2014 will nearly double, exceeding $6 million. The company also has an aggressive schedule to introduce 20 new products within the next several months and has recently created proprietary designs for multiple retail partners including Bed Bath & Beyond and CVS Pharmacy.
"With the introduction of these 20 new products, we project 2015 revenue to exceed $10 million," stated Parisi. ToiletTree Products are currently found in thousands of retail settings throughout the US, Canada, Puerto Rico and in 2014, online sales have reached over 40 countries worldwide. For more information, please visit http://www.ToiletTreeProducts.com.
ToiletTree Products is proud to be among the most elite group of America's entrepreneurial community; the companies of the Inc. 500 that represent the top tier of the Inc. 5000 found at http://www.inc.com/500. They join the ranks of Inc. Magazine's top 500 Winners from previous years, including Microsoft, Oracle, Intuit, Pandora, Zappos, ZipCar, Under Armour and many other leading companies in multiple sectors.
For additional information contact:
Steven Parisi – President, ToiletTree Products
Email: Steve(at)ToiletTreeProducts(dot)com
Telephone: 1-888-251-0985