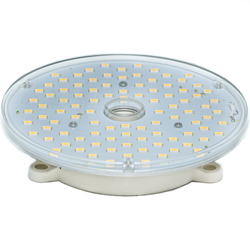 Award-winning LED retrofit kit is now available online.
Campbell, CA (PRWEB) September 05, 2014
Nesora Light Technologies, Inc. has launched a new eStore for its award-winning LED light kit.
The LED retrofit light kit is designed to work in variety of light fixtures and ceiling fan lights. Certified and fully dimmable, this field-retrofit conversion light is designed to provide high quality, uniform light output, reduced energy consumption, and long life.
A winner for innovation in the 2013 LIGHTING FOR TOMORROW competition, Nesora Light Technologies earned high praise from lighting industry judges who made special note of the light disc's "impressive output and distribution of light" and remarked that the disc "is a great idea for dome lights and other existing applications."
Based in California's Silicon Valley, Nesora was established in 2007 to respond to the growing need for energy-efficient lighting systems in a variety of common and specialized applications. The Nesora leadership team draws experience from both the solid-state lighting/semi-conductor industry as well as the lighting industry.
For further information, call 408-426-8986 ext. 1004 or visit Nesora.com
Nesora Light Technologies, Inc., is a member organization of the American Lighting Association.