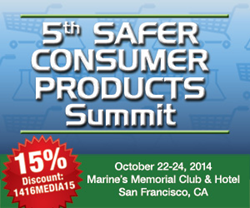 Network and establish key partnerships needed to comply with current and future regulations.
Los Angeles, CA (PRWEB) September 04, 2014
Infocast, a leading business intelligence and networking event producer, has announced the 5th Annual Safer Consumer Products Summit, scheduled October 22-24, 2014 in San Francisco, CA.
Thus far in 2014, 30 states have considered chemical safety legislation due to increasing concerns about the safety of chemicals in consumer products and the absence of TSCA reform. California, Maine, Minnesota, Oregon, Vermont and Washington were among the states that passed chemical safety legislation in 2013 but no state has been as proactive as California, whose Safer Consumer Products Regulations went into effect on October 1, 2013. Since then, California's Department of Toxic Substances Control (DTSC) announced three proposed initial priority product and candidate chemical combinations and by this October they must issue a three-year working plan and potentially new priority product categories to be scrutinized.
Infocast has organized the 5th Annual Safer Consumer Products Summit, the only meeting of its kind, to correspond with this next phases of the California SCP Regulations. The summit will bring representatives from the DTSC and other governmental decision makers together with nationally recognized consumer brands, manufacturers, OEMs, retailers and green chemistry experts to provide the timeliest information on California's regulations and the rapidly evolving state, federal, and international chemicals legislation landscape. Specifically from California, Bob Boughton and Meredith Williams from the California Department of Toxic Substances Control have joined the program, along with many other state and federal decision makers from across the United States.
In addition to the market-leading summit, Infocast has organized the Innovating for Safer Consumer Products Pre-Summit Forum which will examine green chemistry, innovation and sustainability initiatives among academia, brand owners, chemical majors, OEMs and retailers. It will also provide lessons learned from market pioneers, like Honest Company, Seventh Generation and The Clorox Company, on getting ahead of the regulatory curve via product and brand innovation. This New World of consumer product regulations is here and learning to stay compliant and competitive can only be accomplished by having the most up to date information on the impending regulations.
For more information, to register, or to join us as a sponsor, visit the website at http://www.infocastinc.com/events/safer-consumer-products or contact Infocast at 818-888-4444.
About Infocast
For over 25 years, Infocast has produced the highest quality events, tailored to the needs of the industries we serve. We intensively research the marketplace, pulling from an extensive network of experts to give you the information and connections to succeed.