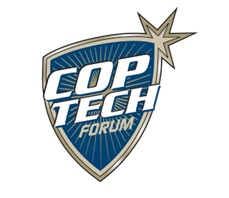 The Cop Tech Forum is the nation's leading event on police technology
NEW ORLEANS, LA (PRWEB) September 05, 2014
Police departments from over fifty U.S. cities will gather to see and compare body-worn police officer cameras, a technology in high demand since the police shooting in Ferguson, MO. Police agencies from Baltimore, Dallas, Miami, Austin, Charlotte, Detroit, Houston, Ft. Lauderdale, Raleigh, Little Rock, Cleveland, as well as State Police from Connecticut, Maryland, and Michigan, will send delegates to The Cop Tech Forum, September 11 and 12 at the JW Marriott Hotel in New Orleans. The police departments will discuss their policies on using body-worn and in-car cameras and see the latest equipment for recording police activities in the field.
"The Cop Tech Forum is the nation's leading event on police technology. City and State Police send their technology leaders to the event to see what is available and to discuss policies for their use of technology such as video, license plate readers, and other devices which enable better policing," said Scott Goldman, President, Eaton Hall Exhibitions, producers of the conference.
This year's event will feature a keynote address by the Fort Worth (TX) Chief of Police, Jeffrey Halstead. Fort Worth has the nation's largest deployment of police body cameras, with nearly half its 1,500 officers already wearing cameras. Chief Halstead has called the cameras a valuable tool to enhance public trust of his officers, and has encouraged other departments to deploy them. Another presentation will feature Rick Smith, President of Taser International, Inc., which is the largest maker of police body-worn cameras.
Police will also see and test out other new policing technology such as rapid DNA testing to identify suspects, crime mapping to pinpoint trouble spots and ways to connect high-speed internet and police databases into every patrol car.
Police departments spend nearly $100 billion annually and several of the leading vendors in the industry will be showcasing the latest products, including: Appriss, Investigative Analysis Software; Brazos Technology, e-Ticketing; Brother Mobile Solutions, Mobile Printers; Carfax, Investigative Analysis Software; CDW-G Public Safety, Systems Integration, VAR, Reseller; Cellebrite, Investigative Analysis Software; Data911, Mobile Video, In-Car Displays, LPR; Dell, Rugged Computing Solutions; Esri, Crime Mapping – GIS; Frontier Computer Corp/Peplink, Internet Connectivity Solutions; Gamber-Johnson, Mobile Mounting Systems; GE Healthcare, Investigative Analysis Software; Getac, Rugged Computing Solutions; IBM, Investigative Analysis Software; Insight Public Sector, IT Services, Managed Solutions; IRSA Video, Video, Body Worn/Case Management; LeadsOnline, Investigative Analysis Software; New World Systems, CAD/RMS; Niche Technology, Records Management Software; Paladin Data Systems, Command & Control Applications/Info Sharing; PoliceGrantsHelp, Grant Information & Assistance; QueTel, Evidence Mgmt, Quartermaster Inventory; TASER International, Video, Officer-Worn Cameras; Tracker Products, Evidence Mgmt, Quartermaster Inventory; Utility, Command & Control Applications/Info Sharing; Vigilant Solutions, License Plate Reader Systems and Wynyard Group, Analytics Platform.
At the CopTech Forum, law enforcement officials will gather detailed information on exactly how their department can use the latest in information management, communications, and technologies. Even more important, they will have the opportunity to select the right solutions. In just two days, attendees will be at the center of the police tech universe, with people and resources to get the very best. To register for the conference, and learn more information about sponsorship visit, http://www.coptech.com.
# # #