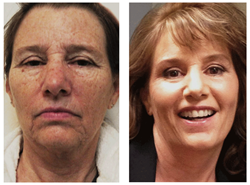 With the Time Machine Procedure men and women can look 5 to 10 years or more younger after only a few treatments.
Oklahoma City, OK (PRWEB) September 04, 2014
"The Time Machine Procedure℠ is a new, non-surgical treatment that's helping men and women look years younger, and it's now available for the first time in Oklahoma City" says Ron Nerad, CEO of Vitality Medical & Cosmetic Center, which is introducing the breakthrough procedure to the public at the "Introduction To The Time Machine" event on Thursday, Sept. 4 from 12:00 to 8:00 p.m. Greeting the attendees will be an exact replica of the iconic DeLorean "Time Machine" car from the "Back To The Future" movies, to emphasize how the new treatment can take a person's appearance "back in time" 5 to 10 years and beyond. Vitality's staff will follow the "time travel" theme, dressed in the styles of different decades. For more information on the event click here: http://www.vitalitymcc.com/time-machine-procedure
"An extraordinary combination of leading edge technologies and techniques merged with many years of perfecting, the Time Machine Procedure℠ takes on age-related issues including skin deterioration, sun damage, wrinkles, sagging, and loss of volume, as well as hyperactivity of muscles for facial expression," says Dr. Mauricio. "Offering complete rejuvenation and natural looking results, this customizable process helps patients appear like they have traveled back in time, emerging how they looked 5 to 10 years ago or more after only a few treatments."
One component of the treatment is a new micro fractional radio frequency technology, which is designed for simpered tone, texture and tightening of the skin. The skin's natural reaction is to generate new collagen which results in improved volume and younger looking skin. The procedure is quick and down time is minimal, with amazing results and without having to go under the knife. It can be used in combination with specially selected technologies and skin care products to aid in healing and maximize results.
"The beauty of the Time Machine Procedure℠ is that it's completely customized to the needs of each patient, taking into account his or her age and skin condition instead of a 'one treatment fits all' approach."
Dr. Mauricio says The Time Machine Procedure℠ is the preferred anti-aging treatment for international celebrities such as Marla Maples, Black Eyed Peas' Apl de Ap, Hilda Koronel, and Gabby Concepcion among others. 
For more information call Vitality Medical and Cosmetic Center at 405.896.9283 and visit http://www.vitalitymcc.com.
For more information on the Time Machine Procedure℠ availability across the country visit http://www.timemachineprocedure.com and call 800.759.6876.
About Vitality Medical and Cosmetic Center:
Our approach is simple - "Offer the latest technology, coupled with best-in-class products and procedures at an affordable price - all while bringing tremendous value to our patients and restoring their quality of life." We view every opportunity to serve our patients as an honor and take great pride in our facility, our staff and the services we offer. Our vision has always been the same - to be Oklahoma's premier center for anti-aging and regenerative medicine. At Vitality, we believe the quality of our lives' is directly impacted by the way we look on the outside and feel on the inside. Our ultimate goal is to help patients lead active, fulfilling lives by looking and feeling more vibrant and youthful. We accomplish this by providing patients with the latest technologies in aesthetic and regenerative medicine, all in an inviting atmosphere focused on the highest standards in customer service.
About Dr. Mauricio:
Dr Tess Mauricio, "America's Favorite Dermatologist" is a Board Certified Dermatologist, graduate of Stanford University School of Medicine, and a Summa Cum Laude graduate of The University of California San Diego. She is the founder of M Beauty by Dr Tess clinics. She is the youngest woman and only Filipina to hold the position of President of The San Diego Society of Dermatologic Surgery.
#####