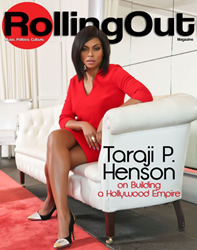 I have built an empire in one generation.
Atlanta, GA (PRWEB) September 04, 2014
When she struts from the terrace into the Garden Room at the SLS Hotel at Beverly Hills, Taraji P. Henson owns the space. Wearing a Marissa Webb-designed tomato red suit paired with gold and silver pumps with a black vamp, she walks with a sway that screams power.
It's not a far cry from the character Terry whom I'd just seen the night before in the psychological thriller "No Good Deed," starring Henson and Hollywood heartthrob, Idris Elba. The Oscar nominee plays an Atlanta housewife living a quiet suburban life with her husband and two kids. She finds herself in a deadly cat and mouse game on a stormy night with an escaped killer named Colin, played by Elba.
Taraji hits it off with rolling out's editor-in-chief Yvette Caslin and their Los Angeles-based photographer Kawai Mathews instantly during the photo shoot for the cover. It's in her nature.
She stands poised in her power suit, making it hard to believe that this Washington, D.C., native has some hidden physical strength. Her co-star joked that Taraji landed some serious punches on him during the fight scenes in the film.
It makes you ponder, like her character Terry, who was a prime target but never a victim, in real life, what is Taraji protecting?
"Everything that I've worked for … I have built an empire in one generation. My son [Marcel] does not remember the bad times. I preach to him that he should protect it as well. I've done what my mother wasn't able to do or her mother. That's pretty huge. I emphasize him protecting it as well, with social media, [telling him to] be careful what you put out there. They are going to try to get to me through you," she explains.
Also in the cover feature, Taraji shares how she knew there was room for her in Tinseltown, identifies her inspirations and tells when she's most vulnerable.
Visit rollingout.com to read the interview in its entirety. Be sure to check out the exclusive photo shoot with celebrity photographer Kawai Matthews and the video interview with Fabiola.
About Rolling Out Magazine:
Rolling Out, the nation's largest free urban weekly, is a digital and print magazine that focuses on the black experience in response to entertainment, politics, fashion, culture, sports and lifestyle points of interest. Headquartered in Atlanta, Rolling Out is positioned as the voice for the African American experience, using its newspaper as a platform in the marketplace to express urgency for education reform, and to document entrepreneurial endeavors and other relevant issues in the Diaspora. For information on rolling out, please log on to rollingout.com.