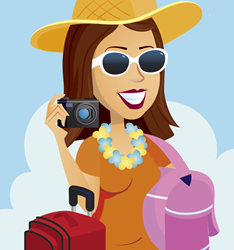 Natick, MA (PRWEB) September 05, 2014
Recognizing that family travel can be expensive, FamilyTravelMagazine.com, a leading family travel blog, has released a list of the top 11 affordable family vacation destinations. The list includes destinations across the United States.
"With many national attractions raising prices in the past year, it's certainly put a strain on families that are looking to enjoy an affordable family vacation. But, there are still many affordable travel destinations in the US", said FamilyTravelMagazine.com's editor, Jodi Grundig. The FamilyTravelMagazine.com list includes destinations that are easily accessible to families.
Destinations include the following:
St. Louis
Oklahoma City
Rochester, NY
the White Mountains of New Hampshire
and 7 more
To see the full list of affordable family vacation destinations, visit FamilyTravelMagazine.com.
FamilyTravelMagazine.com's editor Jodi Grundig is available to discuss these destinations for television segments or publications.
About FamilyTravelMagazine.com and Jodi Grundig
Passionate about promoting family vacations that help a family bond, Family Travel Magazine reviews hotels, destinations and attractions and reveals special deals and promotions at hotels across the U.S., Canada, and the Caribbean. Jodi Grundig, mom of two with an MBA and ten years in corporate finance, is a sought-after brand ambassador, travel writer, mom blogger (since 2007) and brand consultant. An avid traveler and travel blogger, Jodi has written about some of North America's best family hotspots, including Hawaii, Phoenix, Virginia Beach, Walt Disney World, Orlando, the Bahamas, and the Cayman Islands.