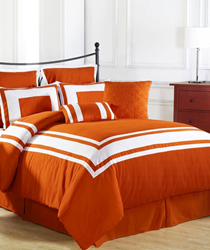 zulily is an amazing company and we are proud to be partnering with them to bring this kind of savings to a whole new group of customers
Evansville, IN (PRWEB) September 04, 2014
Online luxury linen and bedding retailer eLuxurySupply.com is proud to announce a partnership with flash sales giant zulily immediately following a weekend of Labor Day deals to continue the savings for consumers. zulily is featuring a three day flash sale on an array of all of the eLuxurySupply/ExceptionalSheets Down Alternative luxury bedding products.
"zulily is an amazing company and we are proud to be partnering with them to bring this kind of savings to a whole new group of customers," said eCommerce Manager for eLuxurySupply, Kyle Schmidt. "We are very excited to get our products in front of the loyal customers that zulily is known for," he said. zulily is a flash sale site that features products for the entire family with clothing, home décor, toys and gifts.
eLuxurySupply's flash deal on zulily is running through Friday, September 5 and features far-below-retail prices on a number of their down alternative comforters, pillows and mattress pads from their own ExceptionalSheets brand.
"All of the products that we are offering in the zulily deal are made with down alternative, which has the look and feel of Down, but is 100% non-allergenic," said Schmidt. "zulily is featuring the best of our comforters, pillows and mattress pads that customers have been raving about for months at extremely discounted prices," he said.
Some products featured in the zulily deal are the company's own Extra Thick Mattress Pad, Bamboo Mattress Pad and their signature Extra Plush Mattress Pad, which are the website's most popular and well-reviewed products to date. The mattress pads are filled with a hypo-allergenic cluster down fiber that allows for exceptional breathability and according to many reviews, provide a "cloud-like" sleeping experience. All of the company's mattress pads are made in their own manufacturing plant in Martin, TN.
Also featured in the zulily deal are the company's Down Alternative Comforters, which are quickly rivaling all of the company's products in the highest-selling department. zulily is featuring a variety of colors, designs and types of comforters that can fit anyone's tastes and style.
Also featured in the deals are the ExceptionalSheets Down Alternative pillows, which are made with hypoallergenic polyester cluster filling that resists flattening and makes for a soft and enjoyable sleeping experience.
"We want to thank zulily for partnering with us to bring our products to their customers at these amazing prices," said Schmidt.
About eLuxurySupply.com
eLuxurySupply.com is a United States Veteran Owned and Operated company based in Evansville, Indiana that is quickly becoming one of the internet's most trusted and successful luxury superstores. eLuxurySupply is a Sam Tucker LLC owned and operated business and for any questions, comments or concerns, please call 1-800-977-7433 or email service(at)eLuxurySupply(dot)com.