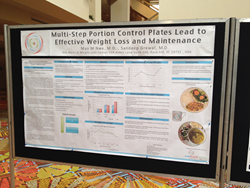 Unlike many other weight loss products on the market, SlimPlate System is designed to help you dieters lose their excess weight without the need to buy expensive diet foods or to attend costly public meetings
Rock Hill, South Carolina (PRWEB) September 08, 2014
SlimPlate System is a cost-effective way to lose weight and maintain a healthy, balanced diet – ideal for low-income adults who can't afford to subscribe to expensive meal plans or other costly diet fads. The proven weight loss method uses portion control to trigger weight loss, and the carefully labelled dinnerware helps anyone to maintain a balanced diet, with sections on every plate for all food groups.
A spokesman for SlimPlate System says, "Without healthy eating attitudes, they will be at higher risk of developing ailments like obesity diabetes and heart disease. SlimPlate System is a cost-effective way to lose weight and cultivate a healthier lifestyle, with plates to indicate exactly what the user should be eating for every meal. For just a one-off payment to purchase the dinnerware collection, anyone can take the first step to shedding weight and developing a healthier attitude to their food."
The physician-approved portion control system has four different stages. All four plates, as well as the accompanying bowls and measuring cups, have been created to help control portions and encourage users to create healthier meals to fill their plates. The first stages limit starches to focus on the proteins and other food groups that will kick-start a metabolism. By the time those using the SlimPlate System reach the third and fourth plates, their overall eating habits are much healthier and their portions are more suitable – aiding fast weight loss that could help defend against illness or disease.
Unlike many other weight loss products on the market, SlimPlate System is designed to help dieters lose their excess weight without the need to buy expensive diet foods or to attend costly public meetings. The cost-effective way to shed weight and cultivate a healthier lifestyle overall costs just $99 as a one-off payment and could help millions of low-income adults to close the healthy eating gap revealed by the survey.
To find out more about SlimPlate System, visit the website: http://www.slimplatesystem.org/
About SlimPlate System:
SlimPlate System is a four-stage weight loss program that shuns deprivation for portion control. The system, which has been designed by physicians and proven by research, is easy to implement and maintain, with no calorie counting, costly supplements or juice fads.
Reference: http://www.hsph.harvard.edu/news/press-releases/u-s-diet-shows-modest-improvement-but-overall-remains-poor/
Attribution: The above reference is released on September 1, 2014.