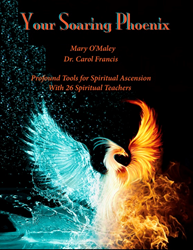 "YOUR SOARING PHOENIX"moves the ordinary way of experiencing or understanding everyday realities. Dr. Carol Francis
Los Angeles, CA (PRWEB) September 15, 2014
"YOUR SOARING PHOENIX" by Dr. Carol Francis and 25 other authors is available today on Amazon.com at 10% discount. These 26 authors and seasoned professionals of YOUR SOARING PHOENIX examine 42 experiences and exercises which inspire and instruct readers to expand their world-view and their personal beliefs about psychological power, ability to change personality and events, health and healing, practical every day use of metaphysical practices, and research about parapsychological tools. "Integrating empirical scientific data, metaphysical experiences and practices, along with personal growth techniques is reflected in the writings of these 26 authors and professionals. Each 42 chapters of YOUR SOARING PHOENIX aims to assist individuals to live and to think in a multi-disciplinary fashion as they expand their lives to be even more effective and enriching," explains Clinical Psychologist and author Dr. Carol Francis.
"YOUR SOARING PHOENIX" today is available for 10% off both as paperback and ebook editions at Amazon.com or this link (click here).
About Contributing Authors:
Dr. Carol Francis, Clinical Psychologist, Marriage, Family and Child Counselor, Reiki Usui Master, Certified Medical Hypnotherapist practices in the Torrance, Redondo Beach, Manhattan Beach areas of Los Angeles providing services for over 37. "YOUR SOARING PHOENIX" is one of many books by Dr. Carol Francis including "Evolving Women's Consciousness," "Re-uniting Soldiers with Their Families," and "If You Can't Stop Eating, Maybe You're Hungry."
YOUR SOARING PHOENIX includes best selling authors such as:
Cynthia Sue Larson author of over 9 best selling books from Cal Berkeley with her recent release Quantum Jumps: An Extraordinary Science of Happiness and Prosperity
Raven Keyes who worked with Dr. Oz and author of Healing Power of Reiki
Michael Ortiz Hill nurse and cross-cultural writer of over 12 books including The Craft of Compassion
Dr. Marjorie Miles creator of site Journey of Your Dreams & author of Healing Haikus - A Poetic Prescription for Surviving Cancer and Clinical Hypnotherapist and survivor of cancer with the help of poetic expression
Dr. Shelley Stockwell Nicolas international speaker and author of over 26 best selling books with her most recent book released 2014: The Mysteries of You
Belinda Farrell author of Find Your Friggin' Joy, actress and stunt car driver
Dr. Andrew Cort, Lawyer and Chiropractor, and author of Symbols, Meanings and the Sacred Quest
Dr. Steve G. Jones, Master Hypnotherapist, International Speaker and Creator of over 2000 tools for Self Improvement
Mary O'Maley producer of The Merry Medium Radio Show and Co-Editor of YOUR SOARING PHOENIX
Dr. Heather Friedman Rivera author of Quiet Waters and Healing the Present from the Past
Dr. Carolyn White author of Think It, Say It, Be It
Michael Lightweaver inspirational author of viral blogs
Donald Saunders author of the eye-opening series The Knowledge
Barbara Schiffman author of Akashic Records and LIVING IN BALANCE FOR BOOMERS: Secrets to Making the Most of the Second Half of Life
Edie Summers executive director of SMASHON, a world wide health practitioner's referral system and author of Self-Coach Your Way to More Energy and her book about surviving CS: Memory of Health
Dennie Gooding world wide famous intuitive reader for government and private parties with her Masters in Engineering and Psychology
Actress, producer and international speaker Jane Sibbett
Brigit Esselmont, creator of the world wide used BiddyTarot.com
and many more professionals to be announced.