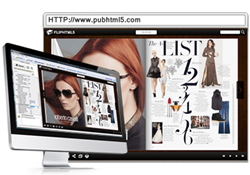 (PRWEB) September 06, 2014
PUB HTML5, a well-known low-cost or free online magazine publishing platform, now offers multiple pricing plans that can help non-profit organizations to distribute their content worldwide, only at a small cost. This way, non-profits will be given a chance to increase their audience and receive more donations as they reach more and more people online.
PUB HTML5 is an amazing platform to create e-magazine or catalogue flipbook with amazing HTML5 & CSS3 interactive flip effect. It allows users to edit according to their nature of business. Equipped with eye-catching animations, readers will find it easy to enjoy browsing the digital catalogue or magazine in no time.
All magazines, catalogues and brochures can be customized, giving the readers a rich media experience they deserve. Accessible from all major mobile platforms, readers won't find it hard to access the digital publications with their iOs, Android or even Win8.
Free and affordable plans are also offered to those who want to publish digital publications with a little budget on hand. Non-profits can take advantage of their multiple pricing plans as they can now afford to create their own interactive flip book that will engage readers to help, donate and support their advocacies.
Non-profit organizations can take advantage of PUB HTML5's customized user interface where they can tweak the look of their digital publication including colored bookmarks, logos, backgrounds, music videos and graphic buttons that will help make their site stand out among the rest.
Since 2010, over 3,000 companies have chosen PUB HTML5 to publish their brochures, magazines and catalogue to get their content across their readers worldwide. For non-profits, PUB HTML 5 is an effective tool for them to spread their message in a unique and creative way that will surely make a stronger impact.
PUB HTML 5 is the best thing that has happened to digital publications to date. For more information, visit http://pubhtml5.com/.