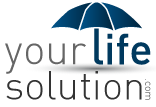 People really rack their brains deciding whether they should have permanent life insurance or term life insurance, but there is no absolute correct answer
Chicago, IL (PRWEB) September 04, 2014
YourLifeSolution.com, an online life insurance comparison service, is today illustrating a method which will allow cash-strapped individuals to purchase the life insurance they need for a fraction of the cost of permanent life insurance and easily extend all or a portion of the coverage later without being underwritten for health conditions or lifestyle. "People really rack their brains deciding whether they should have permanent life insurance or term life insurance, but there is no absolute correct answer. Even if you absolutely know that term is the right option as this point in your life there can very well come a point in the future where you need a portion of your coverage to be permanent", said Eric Smith, the founder and independent life insurance agent of YourLifeSolution.com.
YourLifeSolution.com's Illustration of How of Term Life Insurance Conversion Would Theoretically Work:
-Term life insurance cost for $1,000,000 of coverage on a 20 year term for healthy 30 year-old man: $37 per month
-Approximate cost to covert $250,000 of the coverage to permanent life insurance at age 50: $204 per month
"Permanent life insurance is a way to insure against a 100% risk, this is why it costs so much more, but it still makes sense in many cases. Not carrying any life insurance or an inadequate amount due to not being able to budget for the cost of permanent life insurance isn't at all sensible. Buying term and being ready to convert to permanent life insurance later is the best of the both Worlds", said Eric Smith.
Consumers interested in viewing their own permanent of term life insurance quotes are urged to visit YourLifeSolution.com. Information can also be obtained by phone at 888.374.2764.