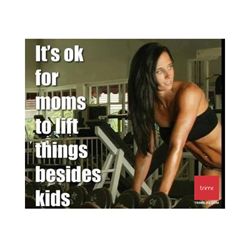 Moms sacrifice enough; their health should start pulling some rank in the home.
Salt Lake City, UT (PRWEB) September 04, 2014
Fitness accessory company Trimr is joining moms in celebrating back to school season as a time to focus on themselves. Kids go back to the books and moms go back to more; more time to pursue healthy living through workouts and nutrition. Early morning runs and nourishing protein shakes will find an upswing in September and to make it even easier, Trimr is offering their patent-pending water + shaker bottle at a 20 percent discount to all moms through September.
"After a busy summer of shuttling kids here and there, we are incredibly excited that moms can maybe find a moment to focus on balance through diet and exercise," said Travis Winn, Trimr CEO. "Moms sacrifice enough; their health should start pulling some rank in the home. Our bottle is designed to make hydration and nutrition an effortless priority, just what moms need as its time to take a breath. So use Trimr and hasthtag me time!"
Trimr focuses on busy women as a strong customer base so they created a bottle with soft touch coating, non-slip rubber base, and a sleek ergonomic shape. They also found that 82 percent of women prefer using a straw to chugging, so the bottle includes a sip spout as part of the opening option. Alongside traditional black and white coloring, the Trimr bottle also comes in plum and mint to keep things stylish.
Back to school is another time we can say thanks to the busy moms in life. There will be moments for moms as they wait in the car line, watch during sports practice and traverse homework late at night. Trimr wants to be there too, providing some water, a green drink, or a protein shake or two; because it's your time mom. Let us see with hashtag me time (#metime) and enter code "metime" at http://www.trimrlife.com.
About Us
Trimr® is a fitness accessory company where incredible form meets exceptional function. Transforming design and purpose, Trimr's headlining product, its patent pending hybrid shaker + water bottle, allows hydration and nutritional intake to become an effortless priority. Based in Utah, Trimr allows athletes to sacrifice nothing when it comes to performance and style. Committed to using only the most premium, earth friendly materials available, get leaner, quicker, smarter and better with Trimr. To learn more, please visit http://www.trimrlife.com.