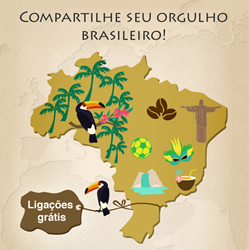 LigaProBrasil.com offers three types of telecom services: Voice Credit, Mobile Recharge, and Virtual Numbers.
Atlanta, Georgia (PRWEB) September 06, 2014
As Brazil's Independence Day is just around the corner, LigaProBrasil.com has prepared a special offer for all its customers. Anyone calling in Brazil can talk for free, for as long as they want to any landline in this country on September 7th. So, Brazilians living abroad can call home and proudly wish their loved ones a happy Independence Day without paying anything.
This special campaign hosted by LigaProBrasil.com is entitled "Compartilhe seu orgulho brasileiro", encouraging customers to take advantage of the free calls and share their pride of being Brazilians with as many people as possible. Independence Day, also called "Sete de Setembro" or "Dia da Pátria" is the perfect occasion to get back in touch with everyone back home by enjoying the special offer LigaProBrasil.com has launched.
LigaProBrasil.com offers three types of telecom services: Voice Credit, Mobile Recharge, and Virtual Numbers. Voice Credit is a prepaid service offering affordable credit for international calls and SMS. Calls can be made from a phone via access numbers, from a computer through the Web Call app, and from a smartphone by using an app for iOS and Android (available without any costs) called KeepCalling. SMS can be sent from the Web Call and KeepCalling apps.
The rate for calling a mobile in Brazil is 3.9¢/min, while that for calling landlines differs: for Rio de Janeiro it is 1.3¢/min, for Belo Horizonte and Sao Paulo it is 1.5¢/min, and for any other Brazilian city, 1.9¢/min. The fee for sending an SMS to Brazil is 8¢.
Mobile Recharge is a service through which customers can recharge phones anywhere in the world. The process is fast and secure and the credit reaches its destination instantly. With over 300 operators from more than 100 countries, LigaProBrasil.com can satisfy every need of international mobile recharge. The operators available for top ups to Brazil are TIM, Vivo, Claro, Oi, and Nextel.
Virtual Numbers are monthly subscriptions through which customers pay a fee of $9.99/month and receive unlimited calls from another country. The people calling the Virtual Number only pay the rate of local calls.
What differentiates LigaProBrasil.com from other services are the low prices offered, the frequent promotions, and the orientation towards customers' needs. What makes the service even more attractive and trustworthy are the 24/7 Customer Service and the comprehensive Help Center.
Payment conditions are other strong points of LigaProBrasil.com. Multiple payment currencies are available to LigaProBrasil.com customers: BRL, USD, AUD, CAD, GBP, EUR. All major payment methods are accepted: Visa, MasterCard, American Express, Discover and PayPal. Also, LigaProBrasil.com guarantees 100% transaction security and satisfaction.
One of the main goals of LigaProBrasil.com is to help people keep in touch and therefore communicate longer and better. Beside the low rates and a reliable service, LigaProBrasil.com offers other great features and applications such as Web SMS and Web Call. All these make LigaProBrasil.com the most transparent, convenient and easy to use calling service on the market.
LigaProBrasil.com's policy is focused on integrating superior customer service, while maintaining the highest standards of technology at affordable rates. That is why LigaProBrasil.com is an affordable solution for international calls and SMS.
About LigaProBrasil.com
LigaProBrasil.com is an interactive website designed by KeepCalling, a global telecommunications company registered in 2002 in USA. KeepCalling provides its services to hundreds of thousands of consumers and businesses, with a focus on customer satisfaction. In 2014, Inc. 5000 listed KeepCalling as the 18th fastest growing company in the telecommunications industry in the US.