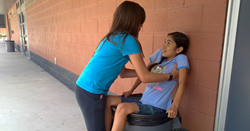 The theory of 'Sticks and Stones' no longer applies. Bullying is a hate crime.
London, UK (PRWEB) September 04, 2014
For all parents, starting school can be a nightmare, from adjustments to tracking classes and activities, it can get very stressful. But when school bullying is also a possibility, knowledge is power when it comes to dealing with bullying in school. NoBullying releases today the ultimate guide to school bullying facts.
The guide lists numbers that will highlight how school bullying appears on a national and international front through credible sources reporting on the latest bullying statistics.
For an example, the guide mentions that 60% of boys who bullied from first grade through ninth grade were convicted of at least one crime by age 24 and 40% had three or more convictions by age 24; meaning that today's bullies can be tomorrow's criminals.
Another alarming number and bullying fact is that half of all children are bullied at some time during their school years. More than 10% of school students are bullied regularly.
Thirty percent of students who say they have been bullied said they sometimes had brought weapons to school, all school shootings were related to bullying in one way or another.
And it is not just school bullying, children today are also faced with the danger of cyber bullying, cyber harassment and internet stalking. The major difference is, while a parent can always change schools for a bullied teen, cyber bullying follows the victim 24/7 wherever they may go. It can have such a catastrophic end result such as the suicide of Amanda Todd, a teenager who couldn't cope with being bullied online and at school.
The guide asserts the troubling fact that cyberbullying can go viral in seconds and is hard to erase, delete or forget. It also guide parents to potentially harmful online activities such as chatting with strangers on Omegle and its similar competitors where children and teens can easily be talking to child predators behind their parents' backs.
Sexting is also a major issue spreading among impressionable children and teens and should be discussed with one's children at length.
The guide helps parents reach a definition of what is bullying and what is cyber bullying so that they can work with children and teachers and the community on ending those hurtful waves soon.
Ciaran Connolly, Co-Founder of NoBullying.com, said "With the new school year upon us, it is essential to teach everyone around us about bullying and cyber bullying. The theory of 'Sticks and Stones' no longer applies. Bullying is a hate crime. "
He added that parents and teachers should make a point to educate the younger generations about the sad outcome of bullying online and offline. According to Mulligan, it is quite imperative to press for more firm laws condemning all acts of bullying and harassment.
NoBullying.com features many pages dedicated to parents, teens, teachers, health professionals as well as posts related to cyber safety and the latest news about law making concerning curbing Bullying worldwide as well as inspirational Bullying Poems and famous Bullying Quotes.
The website regularly updates its bullying statistics and cyber bullying statistics as it is essential to understand how widespread the bullying epidemic is. It also regularly runs cyber bullying surveys and questionnaires to get recent updated statistics on everything related to cyberbullying.
He also added that anyone suffering from bullying in any form or way can always find advice and help on the NoBullying website – but if anyone is suffering from severe bullying or cyber bullying, the best thing is to talk to someone locally – a parent, teacher or local organization that has been set up to help with specialized councilors to deal with this topic.