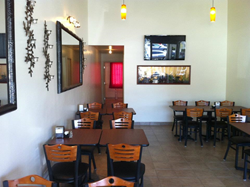 Los Angeles, CA (PRWEB) September 04, 2014
Restaurant furniture manufacturer and distributor, Affordable Seating, has recently helped Pico Café in Los Angles upgrade their seating with new restaurant chairs.
Pico Café is located at the corner of Pico and Robertson in West Los Angeles. They have been serving customers since 1998. What started as a small coffee shop is now a full service restaurant. The menu is dairy vegetarian: with a large variety of omelets, paninis, toasts, salads, pasta, pizza , calzones, Mexican food, Mediterranean food and soups. For drinks they serve hot & iced lattes, smoothies and milkshakes. They also make homemade desserts.
Every dish that they serve is made to order. Their breads (subs, pita, bagels, whole wheat) are delivered daily. Pico Café restaurant has the Kosher supervision of Kehilla. All dairy products are "Chalav Israel" - which means that the product has been under constant rabbinical supervision from the farm to the plate.
Pico Café is located in the heart of the Jewish community in Los Angeles. Pico Café has a patio that can seat up to 30 people for private parties. We also cater for parties and events.
The owner of Pico Café turned to Affordable Seating because of its reputation for durable attractive furniture at low prices. "Durable seating was important to him because this is a high traffic venue" Affordable Sales Rep. Dave M. remarked. Affordable Seating has established itself as a leader in the restaurant furniture business because of its many years of working closely with restaurants and its commitment to high quality. Many of its products are made in the U.S.A.
He opted to go with Affordable Seating's Interchangeable Back Metal Chair with Slats & Circle. He chose the black frame with the mahogany finish for the wood back and seat. The frame also comes in gold, copper vein, gold vein and silver vein. The solid wood saddle seat also comes in dark mahogany, walnut, cherry and mahogany finishes. Customers can also choose a padded seat made of vinyl or fabric.
The Interchangeable Back Metal Chair with Slats & Circle is an attractive chair and a good choice for restaurant owners who want the sturdiness and durability of metal but also the beauty of wood. These chairs are fashionable enough to fit in any dining establishment and are strong enough for high traffic use in places such as Pico Cafe. They currently sell for $43 on Affordable Seating's website. A matching Interchangeable Back Metal Bar Stool with Slats and Circle is also available for $61.50.
To view Affordable Seating's full selection of restaurant chairs, bar stools, booths, tables and patio furniture visit http://www.affordableseating.net or call a customer service representative at (888) 495-8884.
Pico Café is located at 8944 W. Pico Blvd. in Los Angeles, CA. They can be contacted at (310) 385-9592.