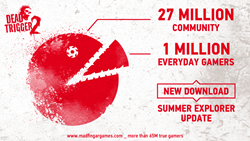 Brno, Czech Republic (PRWEB) September 08, 2014
MADFINGER Games continues to maintain its legendary status through consistent critical acclaim and the high ranking of its games in app communities.
Every day more than one million gamers fight for their lives against walkers in the best zombie shooter Dead Trigger 2. The new update brings incredible complexity through varied gameplay that accommodates a broad range of gamer styles.
Siberia: unlock tech 10 – for all hardcore players. A new region known as POWER-T10 is now open for play, with battles tougher than anything you ever seen. What's inside? A unique hideout skin, new weapons from Tech 10, which other players will envy, like a Winchester 94 and the KSG.
Daily missions - everyday a city in need will appear on the world map. If gamers will answer the call each time, they will be rewarded with double earnings from generic missions. On top of that, with every region new possibilities will open for a daily mission to spawn.
Daily challenges – a dream come true for the seasoned zombie hunter, new challenges every single day. Mentors from the hideout know what you want and have prepared special challenges. Beating these challenges will earn you gold, as simple as a headshot from sniper rifle.
Enhanced friend interaction – most players play Dead trigger 2 with friends, so here it comes, crystal clear friends activity monitoring. The simple, user friendly and sane display of friend statistics, monitoring of friend game progress, easy visiting of friend hideouts, easy and direct communication, intuitive invitation feature for new friends, customizable filters, clear listing and organization, and much more... More friends, more slain zombies, more fun.
The Winchester 94 is a lever-action rifle which became one of the most famous and popular hunting rifles. The Winchester 94 holds the record for best-selling high-powered rifle in US history.
The KSG shotgun is a manually operated, pump action weapon. 12 shells in this ultimate instrument of death reliably solve every walker problem.
Some interesting tidbits: enhanced Facebook support, easier sharing with friends, arena re-balance, more intense arena matches.
Tournaments are cheater-free - Facebook arena has been disabled due to our anti-cheater policy.
Check out the Summer Explorer Update video: http://bit.ly/dt2_070video
Download Summer Explorer Update screenshots here: http://bit.ly/dt2_070_scrn
Dead Trigger 2 website: http://bit.ly/dtrigger2