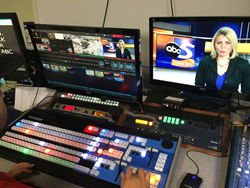 "Our new TriCaster-based production studios have saved us hundreds of thousands of dollars enabling more unique newscasts and perspectives in all our communities without having to compromise," said Jim DeChant, News-Press & Gazette Co.
SAN ANTONIO, Tex. (PRWEB) September 04, 2014
NewTek™ today announced that TriCaster™ multi-camera live production systems have been chosen by News-Press & Gazette Co. as their primary production hub for newscasts at KCOY CBS 12 in Santa Barbara, CA; KNPN Fox 26 in St. Joseph, MO; and KECY Fox 9 in Yuma, AZ. News Press & Gazette is pairing TriCaster with NewsCaster, the media object server (MOS) protocol-based software from Newsmaker Systems, to significantly reduce costs while enhancing the automated production and story workflow. The result is a modernized TV news station with equipment that costs hundreds of thousands of dollars less and requires significantly less space and fewer operators; additional savings with virtual set technology that replaces the traditional static set; and all the production automation capability and flexibility of a traditional newsroom.
NewsCaster streamlines news production operation by linking TriCaster and its many capabilities with standard broadcast newsroom computer systems. Playout sequencing is managed under the control of the newsroom computer system while TriCaster performs final playout. Whole shows are uploaded and updates are automatically applied, allowing the TriCaster operator to remain focused on the live show.
"News-Press & Gazette Co.'s implementation of TriCaster and NewsMaker integrated technology represents a rare inflection point where news stations can realize not only game-changing cost savings in equipment, space and fewer operators but also gain advancements in capabilities that potentially help grow their audience and expand their news coverage," said Dr. Andrew Cross, president and chief technology officer at NewTek.
NewsCasters' MOS-enabled video integration with TriCaster lets newsroom producers capture incoming video and maintain the same story automation features and flexibility from companies such as AP ENPS, the world's most installed multimedia news system, and others. NewsCaster allows TriCaster to automatically order the video with text and graphics based on the sequence specified within the newsroom system rundown. When there is breaking news, video clips can be re-ordered while live and updates are reflected automatically within TriCaster. All three News-Press & Gazette Co. stations are using the TriCaster-NewsCaster-AP ENPS workflow.
"Our mission is to provide multiple voices and diverse information to the public," said Jim DeChant, director of Technical Operations of News-Press & Gazette Co. "Our new TriCaster-based production studios have saved us hundreds of thousands of dollars enabling more unique newscasts and perspectives in all our communities without having to compromise because of economic pressures. We also like NewTek's competitive product upgrade path. Support and service has been great and they've been very responsive to our needs."
TriCaster's built-in virtual set technology is another high-value added feature providing new sets for anchors to work in. In Santa Barbara, KCOY launched a new newscast without having to construct a new set or buy complex and expensive traditional television broadcast equipment by instead choosing to base their production around TriCaster and implementing its built-in virtual set technology. In St. Joseph, KNPN is also taking advantage of TriCaster's virtual set technology to upgrade an outdated traditional set to a new, cleaner, much more modern looking production at a fraction of the cost. In Yuma, TriCaster allowed for an additional newscast to be added because of the low cost of entry without compromising newsroom efficiency with plans to add a second studio to produce an additional newscast in the future.
For more information about TriCaster, please visit http://www.newtek.com.
About NewTek
NewTek is transforming the way people create network-style television content and share it with the world. From sporting events, Web-based talk shows, live entertainment, classrooms, and corporate communications—to virtually any venue where people want to capture and publish live video, we give our customers the power to grow their audiences, brands and businesses, faster than ever before.
Clients include: "The X Factor," New York Giants, NBA Development League, Fox News, BBC, NHL, Nickelodeon, CBS Radio, ESPN Radio, Fox Sports, MTV, TWiT.TV, USA TODAY, Department of Homeland Security (DHS), the National Aeronautics and Space Administration (NASA), and more than 80% of the U.S. Fortune 100.
NewTek is privately owned and based in San Antonio, Texas. For more information on NewTek please visit: http://www.newtek.com, Twitter, YouTube, Flickr or connect with us on Facebook.
###

NewTek, TriCaster and 3Play are trademarks of NewTek.
All other products or brand names mentioned are trademarks or registered trademarks of their respective holders.