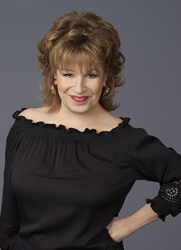 Fairfield, CT (PRWEB) September 04, 2014
The former co-host of "The View" Joy Behar brings two nights of standup comedy to Fairfield Theatre Company's StageOne at 7:30 p.m. on Saturday, Sept. 27 and Sunday, Sept. 28.
Whether Behar is performing standup or interviewing celebrities and politicians, one thing is for sure: she is an innovative comedic talent and a leading woman on television, stage and the big screen.
Behar began performing as a comedian in the nightclubs of New York City in the early '80s. She earned increasingly positive reviews for her routines at such prominent clubs as Caroline's and Catch a Rising Star. It was during the late '80s that Behar would land her own Lifetime variety series, "Way Off Broadway," and her world would change forever.
Behar continued to support herself and her daughter with her comedic work throughout the next decade, touring comedy clubs and appearing in films, including "Cookie" with Peter Falk, "This is My Life," and Woody Allen's "Manhattan Murder Mystery." Behar became a dominant figure in the entertainment world and soon found herself hosting a popular call-in radio show on New York's WABC.
Behar, however, missed the comedic roots that had made her a household name, and soon returned to the comedy club circuit. Her stellar act won her a co-hosting gig on the new ABC daily morning talk show, "The View," launched by television newswoman Barbara Walters. Three days a week, Behar joined co-hosts Star Jones, Meredith Vieira and Debbie Matenopolous (later replaced by Lisa Ling) for the show's mixture of celebrity interviews and chat sessions. Walters appeared on the other two days.
With its unusual hosting format (five women from varied backgrounds and generations), "The View" quickly gained popularity among TV viewers and critics, earning several Emmy Award nominations. Behar and her co-hosts continued to thrive on "The View," but like all good things, it eventually passed. In the spring of 2013, Behar announced that she would be leaving "The View" after 16 years on the legendary series. Behar was the last of the show's original hosts to depart.
"I need a different kind of life," she told TV Guide. "I have so many other things to do! I want to write, do stand-up, maybe do Broadway, do acting roles and live my life without this daily regimen. I'm done! It's scary that 16 years have passed."
Now the famed comedian and talk show host comes to make her Fairfield Theatre Company debut at StageOne doing what she does best: making people laugh. Join FTC as they welcome this dynamic comedic talent to the intimate StageOne for two nights which promise to have those in attendance splitting their sides with laughter as Joy Behar brings her comedic stylings which made her famous to Fairfield County.
Joy Behar
Date: Sunday, Sept. 27 and 28
Doors: 7 p.m.
Show: 7:30 p.m.
Venue: StageOne 70 Sanford St., Fairfield, CT 06824
Tickets: $65 Members Discount $10
Buy tickets: Box Office: 203.259.1036 or reserve online: http://www.fairfieldtheatre.org
<br>About the company:<br>Fairfield Theatre Company is a highly-acclaimed non-profit performing arts organization located in the heart of downtown Fairfield, Connecticut. FTC presents nearly 250 performances and concerts each year featuring outstanding national talent on FTC's StageOne in Fairfield, The Klein Auditorium in Bridgeport, and the Norwalk Concert Hall in Norwalk. FTC's intimate 200-seat StageOne concert venue is widely recognized as being one of the best places to see a live performance in the region. FTC is dedicated to providing the highest-quality arts, live entertainment and educational experiences to the communities it serves.