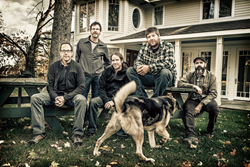 Fairfield, CT (PRWEB) September 04, 2014
After two decades of writing, recording and touring together, veteran jam band moe. will make their Fairfield Theatre Company debut at the Klein Auditorium on Saturday, Sept. 27 at 8 p.m.
Founded in 1990 by bassist/vocalist Rob Derhak, guitarist/vocalist Chuck Garvey and original drummer Ray Schwartz, moe. toured the university's music circuit under the name Five Guys Named Moe with several rotating members. Although moe. covered both contemporary pop and classic rock songs in the beginning, they have progressed and since risen from the dingy college bars of upstate New York to become one of the most important bands around. They've become master promoters, musicians and philanthropists, and have carved a niche for themselves with their distinct blend of Americana, clever songwriting and jam band ethics.
With a devoted fan base known as "moe.rons", moe. has a cartoonishly offbeat sound, slaphappy mix of Primus-like dementia, focused rhythms and improvisational tendencies. They have become a staple in the festival scene nationwide, including Bonnaroo, Summer Camp and The Gathering of The Vibes, in addition to headlining their own festivals, respectively known as moe.down and snoe.down.
Coming to the Klein Auditorium for the first time ever, moe. is touring in support of their eleventh studio album. "No Guts, No Glory!" is a testament to moe.'s ability to evolve as a band, testing their musicianship and songwriting, while growing as an ensemble. They've always had a resourcefulness and willingness to take risks in their studio recordings, and this latest album is being called their most inventive, infectious and resilient point yet.
"Sometimes you have to adapt on the fly and just improvise," says guitarist and vocalist Chuck Garvey. "We had these songs that were written with an acoustic album in mind. But we ended up making a whole different thing."
Music lovers, get ready as moe. will stretch the boundaries of their source material into an intricate, set-long suites where distinct songs seamlessly segue into one another in an exhilarating fashion. Their eclectic, wide-ranging sensibilities will manifest into playful, varied songs that spotlight both their fluid musicianship and their incisive, hook-laden songwriting.
Come join Fairfield Theatre Company in welcoming this incredible jam band whose knack for dynamic, democratic improvisations have permeated every facet of the band's existence. FTC is thrilled to present this incredible night of music for the first time at the Klein.
moe.
Date: Saturday, Sept. 27
Doors: 7 p.m.
Show: 8 p.m.
Venue: The Klein Auditorium 910 Fairfield Ave, Bridgeport, Connecticut
Tickets: $35 Members Discount $5
Buy tickets: Box Office: 203.259.1036 or reserve online: http://www.fairfieldtheatre.org
About the company:
Fairfield Theatre Company is a highly-acclaimed non-profit performing arts organization located in the heart of downtown Fairfield, Connecticut. FTC presents nearly 250 performances and concerts each year featuring outstanding national talent on FTC's StageOne in Fairfield, The Klein Auditorium in Bridgeport, and the Norwalk Concert Hall in Norwalk. FTC's intimate 200-seat StageOne concert venue is widely recognized as being one of the best places to see a live performance in the region. FTC is dedicated to providing the highest-quality arts, live entertainment and educational experiences to the communities it serves.