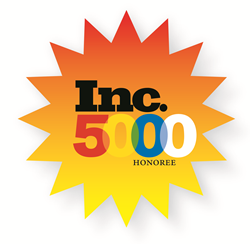 New York, NY (PRWEB) September 04, 2014
Fora Financial, provider of flexible, working capital solutions to small businesses, announces the appointment of John Pelaschier as Director of Architecture as well as being ranked in the 2014 Inc. 500/5000.
As Fora Finaincial's lead technology professional, Pelaschier is responsible for the design, implementation and evolution of the architecture of Fora Financial's core business software. He has over 30 years of experience in a number of industries including engineering, accounting, international school systems, electronic content management and finance.
Fora Financial's constantly evolving industry-leading software platform is a primary reason for the Company's success and growth. Ranking as the 659th fastest-growing company by Inc. Magazine on its 33rd annual Inc. 500|5000 list, Fora Financial revenues grew by 698% from 2010 through 2013, with an increase of revenues from $2.3 million to $18.4 million. Companies such as Microsoft, Zappos, Pandora, LinkedIn, Timberland, Domino's Pizza and many other well-known names gained early exposure as past members of the Inc. 500|5000.
"Our exceptional team at Fora Financial and our many customers and partners are all part of this terrific growth story," said Fora Financial CEO and Founder Jared Feldman. "And we strongly believe the addition of John as Director of Architecture will have a large impact on our future growth. It's great to be acknowledged among the best privately held companies in America, and we look forward to continuing our growth by adding real value for our customers and partners."
For more information on Fora Financial, please visit http://www.forafinancial.com. Details about the Inc. 500/5000 and a full list of companies are available at http://www.inc.com/inc5000/list.
About Fora Financial
Fora Financial offers flexible, working capital solutions to small businesses in need of financing to sustain or grow their enterprise. The Manhattan-based company places a high value on trust and transparency and provides businesses with quick, customized financial solutions utilizing its state-of-the-art technology platforms. Founded in June 2008, Fora Financial has a total of 80 employees who have provided more than $210 million to over 5,000 customers.