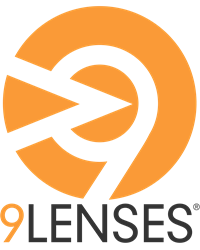 Ms. Brown's extensive financial knowledge and impressive leadership track record will be invaluable to 9Lenses as we continue to scale.
Washington, DC (PRWEB) September 05, 2014
9Lenses, an organizational intelligence platform, announces the appointment of Lisa Brown to the position of Chief Financial Officer.
"Ms. Brown's extensive financial knowledge, impressive leadership track record, and business acumen are going to be invaluable to our company, both strategically and operationally, as we continue to scale," says Founder, CEO, and Chairman of 9Lenses, Edwin Miller.
Ms. Brown previously served as the President of Trusted Computer Solutions, a software development and technology services company. With her extensive experience and widespread leadership skills, Ms. Brown increased Trusted Computer Solutions' revenue by more than 150% in two years, helped bring the firm to the forefront of the market, and ultimately facilitated the company's sale in 2010 to Raytheon. Ms. Brown's previous leadership experience also includes serving as the Vice President of Realeum, Inc., during which Ms. Brown worked to build all new infrastructure, led the company through two different rounds of successful venture capital funding, and assisted in this company's sale as well.
Commenting on her new role, Lisa said, "I am thrilled to help Edwin lead his high energy team towards future growth and success. 9Lenses is truly transforming the way Fortune 500 organizations collect, analyze, and capitalize on employee insights, and it's an exciting time to join this disruptive company."
Ms. Brown's success as a leader was acknowledged and honored when Washington Business Journal named her CFO of the Year in 2011, and later recognized her as one of the Outstanding Women in Business for 2012. Her involvement also extends to many professional associations, as Ms. Brown serves on the Leadership Development Committee of Financial Executives International, is a member of the organization Women in Technology, and is a member of the American Association of CPAs, too.
About 9Lenses
9Lenses is revolutionizing how corporations listen. We are a SaaS platform for discovering, connecting, and securing your organizational intelligence. We are redefining the way employee insights are applied to complex business workflows and strategic listening by tapping into an organization's human data layer. 9Lenses is venture-funded and has a fast-growing customer set of Global 2000, SMB, and consulting firms. Learn to listen intelligently at 9Lenses.com and join the conversation @9Lenses.