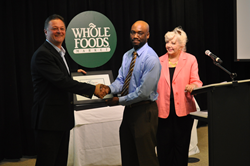 It can be very challenging for our returning veterans to transition from a military life into a corporate life. This program is a true win-win as veterans receive valuable experience...providing the company with much needed skills.
Austin, Texas (PRWEB) September 04, 2014
Alchemy is pleased to have joined Bridge360, an Austin-based software quality assurance company, to offer positions to the charter class of the Veterans4Quality™ training program. Alchemy joined as one of the program's first employment partners.
The charter class of the Veteran4Quality training program included 15 veterans who completed the curriculum and on-the-job training program. The veterans included those that served in deployments ranging from Vietnam to Iraq representing all four branches of service.
"Tens of thousands post-9/11 veterans are entering the civilian workforce currently. Though they are amazing leaders with a work ethic and loyalty that is unmatched, many skills do not transfer directly to civilian careers," said Brenda Hall, Bridge360 CEO. "At the same time, we are in a software quality assurance industry that is in great demand as companies are finding consumers have lost patience with bad software. Furthermore, software quality assurance is not a degree that is taught in universities. So, it just makes sense to combine our expertise with the veteran need in order to close a marketplace gap."
Bridge360 designed the quality assurance curriculum and on-the-job program to accelerate training for returning veterans to enter the high tech profession. Alchemy incorporated the curriculum into comprehensive training on their own software platform designed especially for the food industry. Alchemy's veteran interns participated using the Agile Development methodology and assisted on the Alchemy Player and Creator product teams where they worked closely with developers to insure Alchemy's software provided the best possible user experience for Alchemy clients.
"We are very honored and pleased that Alchemy was able to participate in the Veterans4Quality program initiated by Bridge360. As we all know, it can be very challenging for our returning veterans to transition from a military life into a corporate life. This program is a true win-win as veterans receive valuable experience working in a corporate world while providing the company with much needed skills. It was a real pleasure working with the Bridge360 interns," says Rick Hoffman, Alchemy COO.
The initial Veterans4Quality program began coursework in April through a partnership with Park University, which promoted the program to its veteran students and companies like Alchemy. During the four-month program, students completed coursework and a paid on-the-job training program with local industry leaders in addition to Alchemy Systems including -- Dell, Multimedia Games, NewComLink and Whole Foods as well as Bridge360. Upon completion, students were presented with a Software Quality Assurance Certificate on September 3, 2014.
The second Veterans4Quality class will begin on September 16, with an advance course following later in the month.
ABOUT ALCHEMY
Alchemy Systems is a global leader of innovative technologies and services designed to align employee behavior with a company's quality and safety commitments. From farm to fork, we focus on building successful safety cultures for large, diverse work forces. Over the last decade, we have partnered with our customers to increase productivity, ensure regulatory compliance, foster safe working environments and produce quality products.
To learn more about Alchemy please visit http://www.alchemysystems.com
ABOUT BRIDGE360
Bridge360 was founded in 2001 and is headquartered in Austin, Texas. In 2014, Bridge360 launched the Veterans4Quality program, a fast-track career-training program in software quality assurance provided for free to returning veterans.
Bridge360 is leading the charge to bring quality back to software, implementing quality solutions for clients throughout the entire software development lifecycle. This includes program management, architecture, design and development, testing and support, and maintenance. By specializing in solving complex problems at every phase of the project, Bridge360 removes roadblocks to bring clients' software and applications to any market with the highest level of quality.