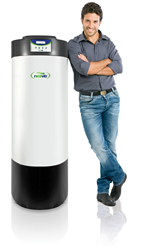 By reusing shower water to flush toilets, homeowners are able to save up to 30% of their indoor water use
Barrie, Ontario (PRWEB) September 10, 2014
Canplas Industries Ltd. announces the addition of a Sustainable Water Solutions product group to its portfolio of building products. Branded as Recover®, this new product group is focused on development of innovative solutions to conserve water in residential communities.
The first product to bear the Recover® brand will be a residential Greywater Recycling System. Dubbed 'The Recover System,' this patent pending technology captures used water from showers and baths (greywater), applies innovative filtration and disinfection technology and then re-distribute the water to flush toilets. By reusing shower water to flush toilets, homeowners are able to save up to 30% of indoor water use.
The key features of the Recover system include a self-cleaning filtration system, a 205L storage tank and a highly efficient pump which uses less than $3.00 worth of electricity per year. The Recover system also incorporates smart technologies such as the 'auto-away mode' and an 'auto tank clean cycle,' which help to further conserve water and reduce maintenance requirements.
A phased launch of the Recover system will begin in the fourth quarter 2014 in Ontario.
Canplas is a manufacturer of injection molded thermoplastic products for the construction industry – A leader in the development of innovative products for almost 50 years. Both Canplas® Industries Ltd. and Canplas® LLC are members of the Aliaxis Group of companies, a global leader of plastic solutions for fluid transport in the field of building materials.
For more information on the Recover system, please visit http://www.recoverwater.com or contact Carl Robb, Product Manager - Sustainable Water Solutions.