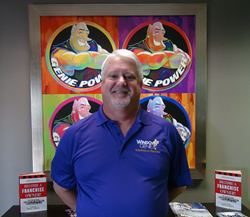 I'm ready to stop making money for other people and it's time I open a business for me.
Corpus Christi, TX (PRWEB) September 04, 2014
Window Genie announces the grand opening of its newest location in Corpus Christi, TX on Monday September 15th. Bryan Rhodes is the owner/operator. Window Genie is a national home service franchise offering window cleaning, window tinting, pressure washing, gutter cleaning and much more. Window Genie will service the Greater Corpus Christi area including North Padre Island, Mustang Island and surrounding communities.
Before joining the Window Genie team, Rhodes worked in the fast food industry for over 30 years; starting as a teenager and working his way to management through college and most recently as the director of operations for a local franchise in Corpus Christi. "It was a wonderful experience, I wouldn't trade it," Rhodes said. "We lived in the Dallas/Fort Worth area for many years and the job brought my family to Corpus Christi which we love. Working for a franchise really helped me expand my horizons and I got my hand in different aspects of running a business; I learned a lot. I've always wanted to own my own business, but whenever I'd consider leaving my job, a better opportunity came along that made me want to stay. I wish I'd done this sooner, but raising my family and being secure was the priority for many years. Now that the kids have grown and left home, I'm ready to stop making money for other people and it's time I open a business for me."
Rhodes left his job in January of 2014 and began working with a franchise coach, Lauren Cantor of The Entrepreneur's Source. "Lauren helped me narrow down the search by keeping me focused on my strengths, weaknesses and goals; important factors to consider when purchasing a business. I went at my own speed and never felt rushed or pressured; she was incredibly helpful."
Window Genie was one of the first opportunities presented to Rhodes during his talks with Cantor. "Window Genie always interested me, and as other opportunities began to reveal flaws or weaknesses, Window Genie continued bubbling up to the top."
Rhodes said ultimately he chose Window Genie because the business model felt like a good fit for him, it was a low initial investment and, "the vibe I got from everyone I spoke with at Window Genie was great. It really felt like a family, a true partnership. All the franchise partners I spoke with had great things to say about their experience. It meant a lot to me that there was a consistent feeling of confidence among everyone and they all truly believe in the business."
Window Genie of Corpus Christi officially opens for business on Monday September 15th. Rhodes is most excited about this new chapter in his life because he feels he'll always be set up for success. "This is scary but exciting. I may be stepping out of my comfort zone but I know I've gotten myself involved with a good team of people who truly care about my success and will be there to continue coaching and training me and my team. Being my own boss is the best part of it all and I'm excited to connect with the community and build relationships with customers and their families in Corpus."
To learn more about Window Genie of Corpus Christi or for a free estimate, call Bryan Rhodes at (361)792-3554 or email him at brhodes(at)windowgenie(dot)com
###