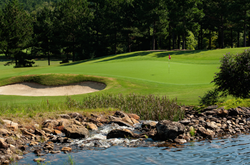 Award-Winning Western South Carolina Golf Course
Greenville, South Carolina (PRWEB) September 05, 2014
The Cliffs yesterday announced the re-opening of The Cliffs at Keowee Falls Jack Nicklaus Signature Golf Course after the successful completion of a $450,000 planned enhancement and upgrade project. As part of the strategic plan put in to place under The Cliffs' new ownership by Arendale Holdings, the Keowee Falls course upgrade is one of many projects either already complete, in motion, or on the drawing board to continue to refine and showcase the standard-setting lifestyle amenities enjoyed by The Cliffs' members.
"In addition to completing new projects, a large part of this year's strategic plan is dedicated to modernizing those amenities already completed. We felt The Keowee Falls Golf Course conversion project was a perfect way to give our members a fresh experience while enhancing an already great golf course," explains David Sawyer, Executive Vice President for The Cliffs Clubs.
The Cliffs at Keowee Falls' Par-72, 7,171-yard course underwent a complete, 18-hole greens conversion, replacing the original Bentgrass with Champion Bermudagrass to enhance overall course performance. "By converting our greens, we minimize aeration cycles necessary to offer consistent, premium play during the peak season," explained The Cliffs Senior Agronomist Jim Evans. In addition, six new forward tees and a short game facility were added to the course.
Keowee Falls is one of The Cliffs' two Jack Nicklaus Signature Golf Courses, and has been recognized with numerous accolades, including being honored within the Best Courses in South Carolina by Golf Digest, South Carolina's Top 50 Golf Courses and Excellence in Golf Course Design by South Carolina Golf Rating Panel. Shortly following its opening, The Cliffs at Keowee Falls Jack Nicklaus Signature Golf Course was named among the Best New Courses of 2008 by Golfweek and Top 10 Best New Private Courses of 2008 by GOLF Magazine.
"The highest priority of this project was to preserve the integrity of the designer's vision for the Jack Nicklaus Signature Course," stated Director of Golf Brian Peeples. "Our members appreciate the pure, core golf experience Keowee Falls provides; our goal was simply to enhance that experience."
Troy Vincent, owner of Vincent Design, LLC whose experience includes work on esteemed courses including Augusta National Golf Club and stints with both Jacklin Design Group and Nicklaus Design, joined Jim Evans to manage the greens conversion. Thanks to Vincent's partnership in the project, The Cliffs was able to soften Keowee Falls' greens and make slight slope adjustments on the course during the conversion.
"The Cliffs is revolutionizing the game of golf by stripping away factors that may intimidate our players. These small adjustments will provide a friendlier experience during play," Peeples explains.
The Cliffs at Keowee Falls golf course re-opened to Members with a celebratory tournament held on August 29.
About The Cliffs
The Cliffs is a collection of seven premier private, luxury residential communities located in the Blue Ridge Mountains of the western Carolinas, between two of the nation's top award-winning cities for quality of life - Greenville, South Carolina and Asheville, North Carolina. The Cliffs' suite of amenities for members includes seven championship golf courses, five wellness centers, 21 restaurant and private event venues, clubhouses, marinas, beach club, tennis complexes, equestrian center, hiking trails, wine clubs, an organic farm and more than 1,000 year-round social activities to create timeless experiences. Homes at The Cliffs range in price from $500,000 to $4 million; homesites, from $100,000. For more information about The Cliffs, visit CliffsLiving.com or call 866-411-5771.
About Real Estate Scorecard:
Real Estate Scorecard writes unbiased real estate reviews providing in-depth information about popular gated communities in Florida, Georgia, North Carolina, South Carolina and Tennessee, all in an effort to help people discover where to retire in the Southeast.
Website: http://realestatescorecard.com