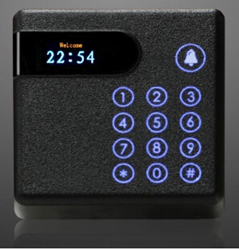 (PRWEB) September 05, 2014
SWAccessControl.com is a big player when it comes to manufacturing access control products. Recently, the company has released its new collection of High-end Readers. All consumers can get a discounted price, up to 30% off, before the end of September.
"We are excited to announce our new selection of High-end Readers for distributors throughout the world. To top it all, we are offering big discounts on most of our products at the moment. The promotion will last until September 30, 2014. A large proportion of our card readers are popular for novel designs, elegant looks and distinguished performance. Thus, we have confidence in our High-end Readers," the CEO says.
SWAccessControl.com has thousands of happy customers, and many of them have been supporting it for a long time. It is very wise to visit the company's website before making any decision. For additional information, all its Card Readers are made with quality materials. They are specially made for those who want to get cost-effective items in September.
The following are some features of its brand new High-end Readers:
*Model: SW-CR28
*Power Supply: DC 9 ~ 15v
*The maximum operating current <80mA 30mA quiescent
*Support for common RFID protocols
*With OLED 128 * 64 yellow-green color display
*Optional to display 10frame preset a picture size: 128 * 64
*Display Languages:support Chinese and English display
*Real-time clock display, built-in battery,it can be work without power.
*1Mbit data storage space, expandable touse
*1 Wiegand data input
*One channel 7816 interface, support PSAM security module
*2 relay outputs (one for doorbell, another one for tamper linkage )
*With Tamper alarm
*Support software upgrade
About SWAccessControl.com
SWAccessControl.com is a leading online store of access control system products. With an aim of offering the most affordable and convenient products, the company often announces new innovative products. In addition, it launches big promotions at its one stop website frequently. Customer service is the top priority of this professional supplier.
More details about its high quality products can be found at http://www.swaccesscontrol.com/?content/product/category/23/index.html.